Wow! I can't believe another month is down. This year has flown by.
Yet, I'm so thankful it's October and everything that comes along with it. October is the month one of the best leadership conferences happens.
That's right. It's Catalyst and I'll be attending the event this week. I look forward to sharing what I learn about leadership and how you can apply it to your life.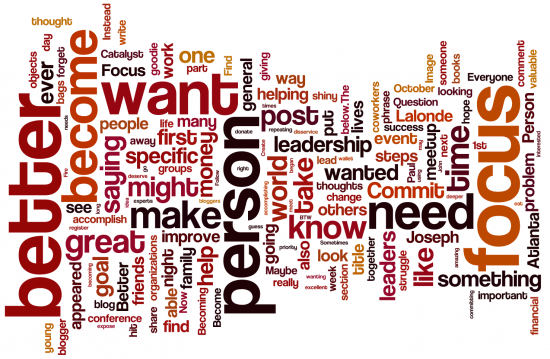 With that said, it's time to dig into the top posts, top commenters, and blog statistics for September.
Top Posts
1. 21 Leadership Lessons And Quotes From X-Men: Days Of Future Past
2. 21 Leadership Lessons And Quotes From Transformers 4: Age Of Extinction
3. 13 Leadership Lessons And Quotes From Maleficent
4. 20 Encouraging Bible Verses For Young Leaders
5. 12 Leadership Lessons And Quotes From The Amazing Spider-Man 2
6. 21 Leadership Quotes From Truett Cathy, Founder Of Chick-Fil-A
7. 15 Leadership Lessons And Quotes From The Maze Runner
8. 10 Leadership Quotes From Captain America 2: The Winter Soldier
9.  10 Facts You Should Know About Modern Day Slavery
10. 9 Leadership Lessons And Quotes From Hercules
This month's top posts were dominated by leadership lessons from movies. 7 out of 10 were inspired by movies and the others were still numbered lists.
It's always interesting to see what is drawn to the top. If you pay close attention, you can discover what works for your blog and what doesn't.
Top Commenters
1. Jon Stolpe
2. RcMaFitness
3. Ed Oyama
4. Dan Black
5. Derek Brott
6. Paul Sohn
7. Kimunya Mugo
10. Jonathan Malm
Thanks to each and everyone that commented this month. I love to read what you're thinking and how you can apply (or even disagree) with what I share.
Site Statistics
Sessions – Increased 15.61%
Users – Increased 16.39%
Pageviews – Increased 14.84%
Pages Per Session – Decreased 0.66%
Average Session Duration – Decreased 2.79%
Bounce Rate – Decreased 5.84%
New Sessions – Increased 0.46%
September was a good month at the blog. We saw increases in almost all areas of the blog.
Site News
I mentioned earlier that October brings the leadership conference Catalyst. This takes place every year in Atlanta, GA and it's a conference I do my best not to miss.
This year, I'll once more be blogging my experience at the conference. You'll see my notes from the conference posted on Thursday and Friday.
I hope you'll find value in my notes from Catalyst Atlanta.
Question: What about you? If you're a blogger, share your most popular post. If you're not, share your favorite post from a blogger you follow.
Latest posts by Joseph Lalonde
(see all)