Wow! We're heading into the home stretch of 2015. 75% of the year is gone.
What have you done with it? A lot, I hope.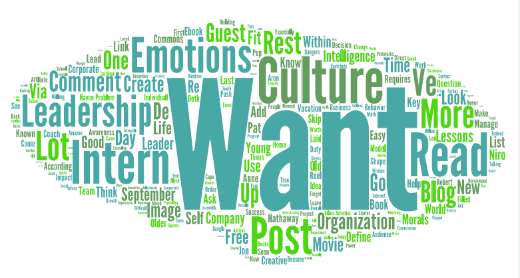 It always amazes me how fast the days and months fly by. In the moment, they seem to last forever. Looking back, they fly by.
So much so, that we often forget to take the time to reflect on what's happened through the month.
That's why I love doing these monthly reviews. I get to see how the blog did in a general sense, I get to honor people who helped out the blog, and I get to share exciting happenings with you guys!
Top Posts For September 2015
We see, once again, that there's a large portion of top posts that fall into the pop culture leadership lessons. Movies and TV series dominate this list.
Are you guys enjoying the leadership lessons from current movies and TV series? Let me know in the comment section.
Top Commenters
Ivan Oreamuno Canizal
Judi
A huge thank you to each and every one of you who took the time out to comment and share your thoughts on the blog. I value hearing your voice and what you think.
Keep the comments coming!
Site Statistics
Sessions – Decreased 5.67%
Users – Decreased 4.59%
Pageviews – Decreased 4.78%
Pages Per Session – Increased 0.94%
Average Session Duration – Decreased 3.15%
Bounce Rate – Increased 4.63%
New Sessions – Increased 0.70%
We see a lot of red (negative) numbers in this month's site statistics. There are a few reasons I think this could be.
First, it's the last official month of summer. People are wrapping up their vacations and getting their kids back to school. This takes time away from reading blogs.
Second, I took off a couple of days this month for a backpacking trip to Pictured Rocks. During this time, I wasn't able to promote the site. There was a noticeable dropoff.
Whatever the reasons, I'll still be back this month to provide you more leadership content. I hope you'll return as well!
Site And Personal News
October is always a great month for me. I get excited for the Catalyst Conference in Atlanta, Georgia.
I'll be attending this great leadership conference once again. I'll also be part of the blogging team so you'll see live blog updates during the conference.
This will happen October 7th-9th. Be on the lookout!
As I mentioned in the Site Statistics section, my friends and I completed a major portion of the North Country Trail by hiking the Pictured Rocks portion in the upper peninsula of Michigan.
While it was physically brutal, it was also a refreshing time of great fellowship and insights into the minds of 2 great men of faith. Be on the lookout for blog posts that include what I learned.
Question: How was your month? If you're a blogger, share your most popular post. If you're not, share your favorite post from a blogger you follow.
Latest posts by Joseph Lalonde
(see all)