March 2014 has now come to a close. This marks the passing of the first quarter of 2014.
I hope you're pursuing the improvement of your leadership and seeing ground gained. So, are you?
With the closing of any month, comes the monthly review here at JMLalonde.com. Let it be a reminder to also review the progress you've made in your life. Whether it's a step further in your leadership journey, growing closer to your wife (or husband), or developing a new trait or skill you can use in your life.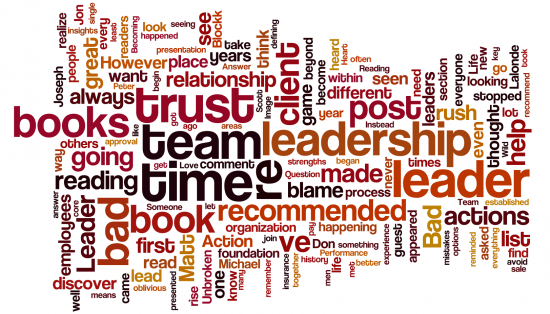 Top Posts
1. Your Past Doesn't Define You. It Helps Shape You
2. 10 Facts You Should Know About Modern Day Slavery
3. 5 Reasons Your Leadership Is Ineffective
4. 3 Keys For Transformational Leadership
5. The Responsibilities Of Leadership
6. 20 Things Leaders Should Say More Often
7. How To Encourage Creative Thinking Within Your Organization
9. The Toughest Decision I've Had To Make
10. Is Amazon Prime Still Worth The Cost?
Some interesting things to take note of:
40% of the top posts this month were list posts.
60% of the top posts were 6 months or older
40% of the top posts were published in March
10% of the top posts were guest posts
I love to reflect back on past months of blogging. Reflection allows me to see trends within my blogging. Reflecting also allows me to see what's working and what's not.
Do you reflect on your blogging or leadership every month? If not, try it for a couple of months. See how it affects what you do.
Top Commenters
1. Dan Black
2. Jon Stolpe
4. Linda Lochridge Hoenigsberg
5. Matt Ham
7. Kent Julian
9. TC Avey
10. Matt McWilliams
Once again, my deepest thanks to everyone who takes the time to comment on the blog. You inspire me and you're the reason I continue to write.
Site Statistics
Visits – Increased 2.39%
Unique Visitors – Increased 2.65%
Pageviews – Increased 5.15%
Pages Per Visit – Increased 2.70%
Average Visit Duration – Increased 11.64%
Bounce Rate – Decreased 59.55%
New Visits – Increased 0.63%
Every metric I track on my blog seen an uptick this month. I'm very pleased to see the growth, even if it's below what I'm hoping for (which is at least a 10% increase in unique visitors every month).
Question: What about you? If you're a blogger, share your most popular post. If you're not, share your favorite post from a blogger you follow.
Latest posts by Joseph Lalonde
(see all)