My latest book, Reel Leadership, is now available <a href="https://amzn.to/3qb8s2R">on Amazon</a>. If you love movies and leadership, you will love this book.
Fantastic Beasts: The Secrets Of Dumbledore continues our journey into the magical world of Harry Potter. We've already had eight Harry Potter films and Secrets Of Dumbledore brings us to the third entry in Fantastic Beasts, an off-shoot of Harry Potter (get the set of Fantastic Beasts movies here).
In Fantastic Beasts: The Secrets Of Dumbledore, we discover there's a secret in the Dumbledore family. It's not what you think as the movie begins but a much sadder secret emerges. Thankfully, there is a resolution to this secret.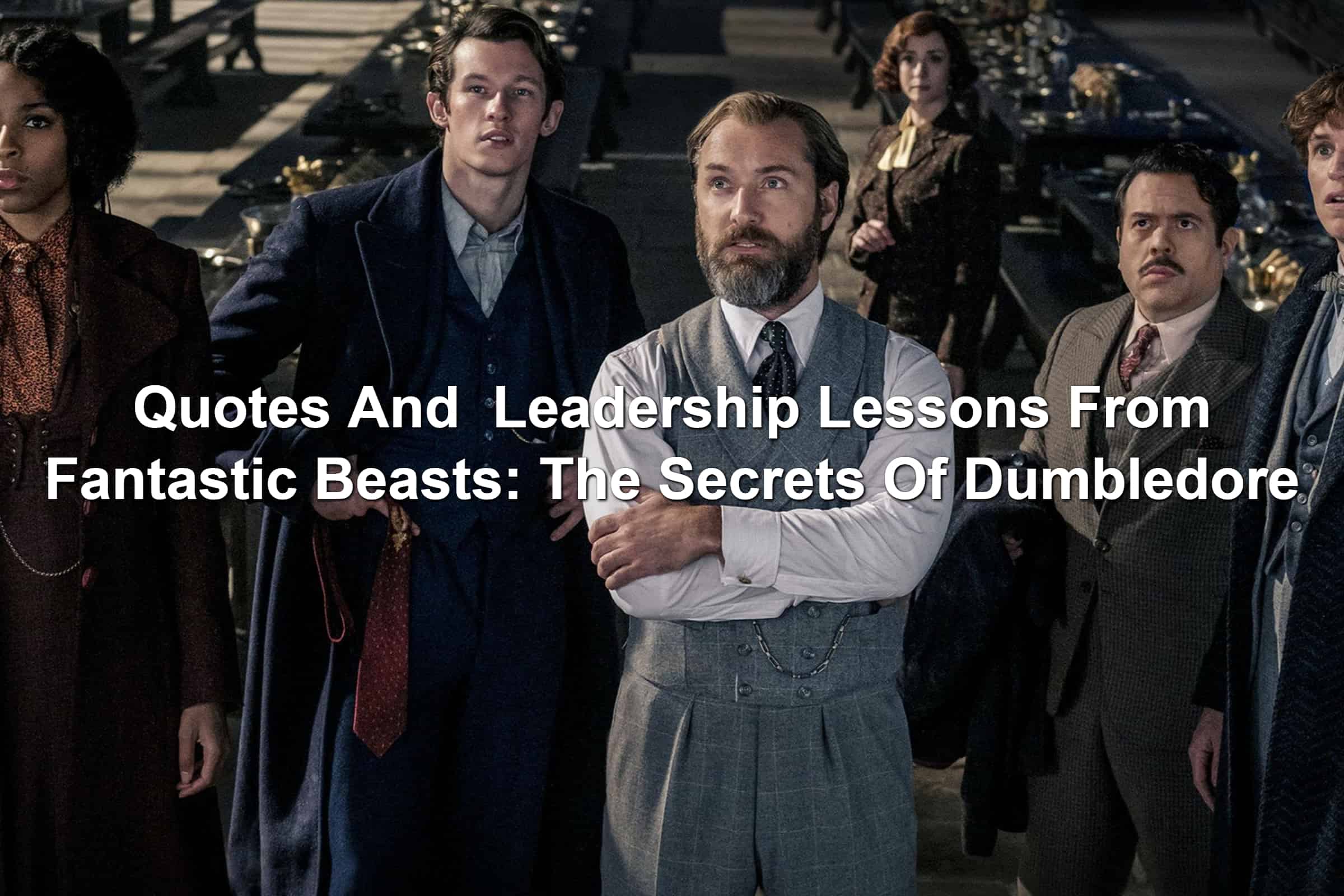 If you're a fan of fantasy, Harry Potter, or the Fantastic Beast series, you will enjoy Fantastic Beasts: The Secrets Of Dumbledore. Though be warned, there are some slow points. I did find myself beginning to nod off during parts of the movie (this could have been from a lack of sleep). However, overall, Fantastic Beasts: The Secrets Of Dumbledore was a great date night watch.
As usual, there's more than enjoyment or mindless junk food for the mind. Fantastic Beasts: The Secrets Of Dumbledore provides us with many excellent leadership lessons. We will be looking at the leadership lessons in Fantastic Beasts: The Secrets Of Dumbledore today!
Quotes And Leadership Lessons From Fantastic Beasts: The Secrets Of Dumbledore
1. The visions we cast can change:
Fantastic Beasts: The Secrets Of Dumbledore opens with Albus Dumbledore (Jude Law) meeting with Gellert Grindelwald (Mads Mikkelsen). The two had dreamed and cast a vision years ago for what the world could become.
Their vision included ruling over the muggles (humans, non-magic users).
Despite their closeness, Albus changed his vision. He no longer wants to rule over the muggles. Instead, he sees they could be allies.
We craft striking visions for our organizations. We have an idea of where they could go or how they could grow. The mindset is you have to stick with a vision once it has been created.
I want to encourage you to break free from this negative line of thinking.
If you discover something, change the vision. If the vision no longer suits you or the organization, adjust the vision.
Visions do not have to be permanent.
2. Albus Dumbledore:
Young man's magic. But still powerful.
Grindelwald and Albus had taken an oath. They created an amulet that would hurt them if they even thought of harming the other.
The magic was done by young wizards. This didn't mean the magic wasn't powerful. It was.
Many people think young leaders don't hold mighty power. The truth is, they do.
Despite your age, if you're a leader, you hold power. It makes me think of the Bible verse in 1 Timothy 4:12: Don't let anyone look down on you because you are young, but set an example for the believers in speech, in conduct, in love, in faith, and in purity.
You can lead well, with power, and as an example, regardless of your age.
3. Stop seeing yourself as damaged goods:
Jacob Kowalski (Dan Fogler) meets Eulalie 'Lally' Hicks (Jessica Williams)
outside his bakery. She tries to recruit him for a secret mission to stop Grindelwald.
In a sad scene, Jacob holds a dented cooking pan. He tells Lally that he is like the pan. Jacob believes he's damaged goods.
Lally, on the other hand, sees Jacob as so much more. She tells Jacob that he is more than the average Joe.
I find ourselves being in the mindset of Jacob more often than not. We look at all of our issues. We see our failures. And we see ourselves as damaged goods. We think we can't be used for anything.
The truth is, you're more than damaged goods. In fact, you're often more than the average person on the street.
Stop thinking negatively about yourself. Start seeing the value you possess.
4. Introduce others:
Lally warps Jacob to a train. The train is filled with the main protagonists of Fantastic Beasts: The Secrets Of Dumbledore.
On the train were Newt Scamander (Eddie Redmayne), Theseus Scamander (Callum Turner), and Yusuf Kama (William Nadylam). Newt takes the time to introduce everyone in the party to Jacob.
We make the mistake of failing to introduce new team members to the long-standing team. We may introduce one or two people but then we stop. We think they'll get acquainted we the rest of the group.
Sometimes that happens. Other times the new hire feels floundering and unaware of who people are.
Make sure you take the time to introduce new people to the team. They'll appreciate it. They'll feel more at home.
5. Newt Scamander:
Do what is right, not what is easy.
Newt was sent to deliver a message from Dumbledore. The intended recipient was Anton Vogel (Oliver Masucci). Vogel was the German Minister for Magic.
Along with other wizards in the International Confederation of Wizards, he had to decide the fate of Grindelwald. Would the charges stand? Would they be dropped?
The message from Dumbledore was to do the difficult thing. The difficult thing would have been to convict Grindelwald.
In the end, they went with the easy action. They regretted it.
Doing the right thing will be easy some days. Most days, the right thing will be more difficult.
Great leaders do what is right, not what is easy.
6. Gellert Grindelwald:
When we allow ourselves to be consumed by anger, the only victim is ourselves.
While a villain, Grindelwald still spouted valuable leadership quotes. The one above is a perfect example.
Grindelwald realized that anger doesn't do the angry person any good. The anger festers and eats at the person feeling anger.
We cannot hold onto anger. Whether the anger comes from a former employee's bad choices, how someone treats us, or another action.
Let go of the anger.
7. Confrontation can lead to the truth being exposed:
Grindelwald fed Credence Barebone (Ezra Miller) lies. Grindelwald had told him that he had been abandoned. Worse, it was Dumbledore that had abandoned him.
Credence was understandably upset. He confronted Albus about the betrayal. They fought but Albus didn't truly fight him. He held him off until he could tell him the truth.
Albus let Credence know who his father was. It was Albus' brother Aberforth (Richard Coyle). He also let him know the details. That resolved the conflict.
Dealing with confrontations is difficult. Accusations may be thrown about. Harmful words may be said.
However, confrontation can get us to the truth quicker than stewing over the issues with no resolutions.
Confront with love. Confront with integrity.
8. Albus Dumbledore:
Dangerous times favor dangerous men.
Albus was greatly concerned with the possibility of Grindelwald being the new Grand Mugwump. He believed the wizards would vote for him because of the times they were in.
The times were dangerous. Power was shifting. People were uneasy.
Grindelwald asserted power. He made people believe his power would lead them well. They would have been wrong.
We have to use caution when making decisions during dangerous times. We are more prone to making mistakes in times of challenge.
The most powerful person seems the best choice. The most direct action seems appropriate. So it goes…
Don't make snap judgments in dangerous times. Instead, step back. Consider multiple options. Seek counsel.
This is how you will make it through dangerous times.
9. Albus Dumbledore:
You should stop doubting yourself. You have something most men go their entire life without, you know what that is? A heart that is full. Only a truly brave man could open himself up so honestly and completely as you do.
Even as the movie nears its end, we find Jacob still doubting his value. Albus confronts him (see, confrontation can be good!).
Albus explains to Jacob what he really has. Jacob has a full heart. He opens himself up. He doesn't hide.
Want to stop doubting yourself? Look at your heart.
What is your heart full of? Is it love? Is it honesty? Is it grace for others?
Great leaders have full hearts. They see others as valuable. Fill your heart.
10. Newt Scamander:
He doesn't want to lead you. He wants you to follow.
Grindelwald had created a zombie qilin (pronounced like chillin'). The qilin had precog-like powers.
In the opening of Fantastic Beasts: The Secrets Of Dumbledore, we see Newt trying to help a mother qilin deliver her baby. He is attacked by Grindelwald who steals the creature. He slices the creature's throat. Placing the dead qilin in water, he somehow resurrects the qilin to do his bidding.
What was Grindelwald's bidding? For the qilin to tell the people that Grindelwald should become the next Grand Mugwump.
Newt exposes this treachery. He tells the people wanting Grindelwald to ascend to this position that Grindelwald doesn't want to lead, he wants followers.
What do you want? Do you want to lead? If so, great. You take on the responsibility and lead!
Do you want followers? Uh oh, that's not good. Great leaders don't look for followers. They look for people to help. They find ways to add value, not take value.
Don't be a leader who is out for followers. Be a leader who wants to help people excel.