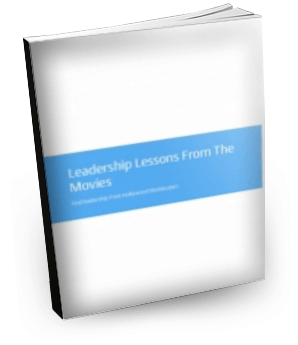 Being a leader shouldn't be a constant grind. You're a person, after all. You have desires and dreams.
You also want to have fun. For many people, fun includes going to the movies. I know that's how I unwind.
I also know you want to be in a position to constantly learn.
For too long, personal development gurus have denounced television, music, and movies as the anti-thesis to growing personally and professionally. I'm calling foul on those leaders.
Great leaders can enjoy themselves. They can watch a couple of episodes of Marvel's Agents Of S.H.I.E.L.D. or DC's Legends Of Tomorrow. There's nothing wrong with enjoying yourself.
But I want to take entertainment to a whole new level. I want to show you how entertainment, especially the big screen, can help you elevate your leadership to the next level.
That's why I've created the eBook Leadership Lessons From The Movies.
What Is Leadership Lessons From The Movies?
Leadership Lessons From The Movies is a short book detailing the leadership lessons you can take away from NINE different movies. I share a different leadership lesson or skill you can discover from a blockbuster movie.
Leadership Lessons From The Movies will help you look at movies in a different light. You will begin to see leadership lessons can come from places other than the office, classroom, and seminars. You can learn while you're enjoying the latest blockbuster movie.
You'll find leadership lessons from Hidden Figures, Rogue One: A Star Wars Story, Logan, and many other movies.
Get Your Free Copy Of Leadership From The Movies
Getting your free eBook of Leadership Lessons From The Movies is easy. Sign up to receive updates and I'll send your copy directly to your email. Just fill in the form below.