My latest book, Reel Leadership, is now available 
on Amazon
. If you love movies and leadership, you will love this book.
It's hard to believe James Cameron's Avatar movie was released 13 years ago. There have been plans for multiple sequels ever since. This past weekend saw the first sequel realized.
Avatar: The Way Of Water splashed into theaters around the world. It's well on its way to making more fans. And I'm one of those.
The movie takes us back to the world of Pandora. Jake Sully (Sam Worthington) is now living with his family on the alien planet. He's taken a Na'vi partner, Neytiri (Zoe Saldana), and spawned many children. Their world is looking great.
That is, until the humans return.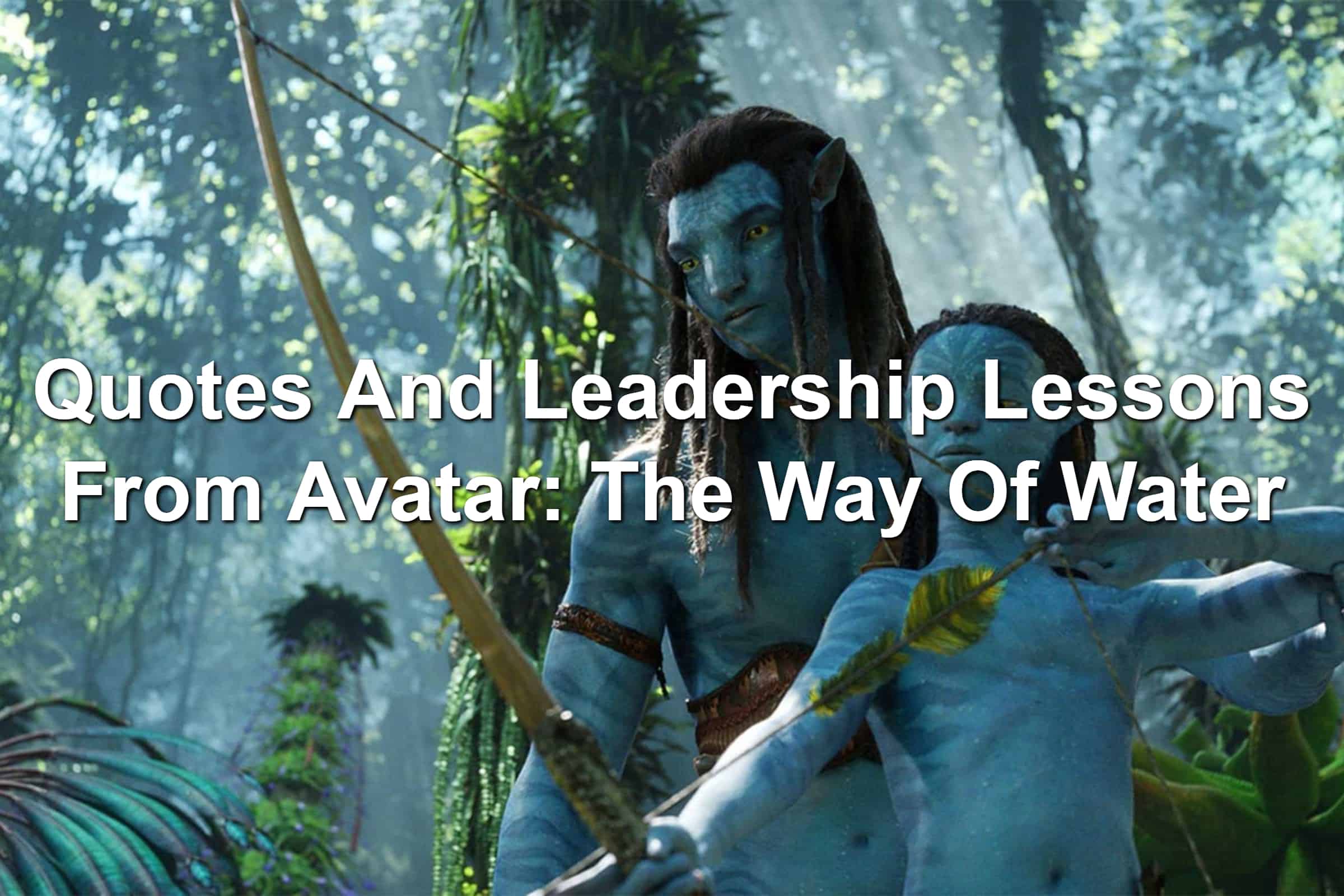 This time, they've come with a vendetta. They're back to take out Sully and those who stand in their way.
The movie's runtime is long, clocking in at over 3 hours. However, because of Cameron's skill and the beautiful setting of Avatar: The Way Of Water, those 3 hours pass quickly. You'll find yourself emersed in the world of Pandora and her inhabitants.
As usual, you won't only find yourself emersed in the fictional world. You'll find yourself emersed in the leadership lessons from Avatar: The Way Of Water. We're going to take a look at those lessons today.
Quotes And Leadership Lessons From Avatar: The Way Of Water
1. Jake Sully:
The most dangerous thing about Pandora is that you may grow to love her too much.
Sully opens the movie as the narrator. This is one of the lines he speaks. It's powerful.
He's come to love Pandora too much. His mind is clouded. He's become a bit lax.
When people return from Earth, his love for Pandora causes trouble for him, his family, and the inhabitants of Pandora.
We can come to love our organizations or our positions of leadership too much. We come to care for what we have that we forget that it's not the be all end all.
Love the organization and people you lead. Don't put it in front of everything else.
2. Not all shiny things are good:
Sully saw a new star in the Pandora sky. While the star was beautiful, it wasn't a star at all.
Rather, the star was the sky people (earthlings) returning. They landed and began to raze and burn the Pandora environment.
It was devastating. The shiny thing in the sky wasn't good.
Leaders are tempted by shiny things all the time. From the latest leadership development to ways to save the organization money, we're enamored by the shiny object.
We need to get over the fascination with new, shiny things.
There are times when they benefit us. However, we often get pulled off course to chase something that isn't helpful.
3. Fear causes us to be hard:
Sully thought he'd lost his sons, Neteyam (Jamie Flatters) and Lo'ak (Britain Dalton), after they had tried to participate in a military operation. He hadn't; they'd only been injured.
When Sully found them, he was hard on them. He yelled and punished them.
Why?
Because he was fearful. Fearful of them getting hurt. Fearful of them dying.
Fear caused Sully to be hard.
Fear also causes leaders to be hard. When you fear for your people or organization, you will be harder. You don't want to lose them, so you attempt to hold on tighter.
Get rid of the negative fear that makes you hard. It's hurting you. It's hurting your people.
4. Leaders gain awareness of what they do:
Spider (Jack Champion) is a human refuge on Pandora. He'd been left behind because he was too young to survive transport back to Earth. Sully and Neytiri adopted him.
The duo also adopted a young girl named Kiri (Sigourney Weaver). She was something special.
One day, Spider finds Kiri sleeping. She was breathing, but with every breath, a pulse emanated from her. This pulse would push down the vegetation around her.
Upon waking up, Kiri was aware of what she had been doing. She realized she had been doing the strange feat again.
We all have quirks in our leadership. We do things that seem strange to others. Sometimes, these actions seem odd to us.
The key is to be aware of these quirks and unique things we do while leading. They can be the key to unlocking your true leadership potential.
5. Great leaders comfort others:
Miles Quaritch (Stephen Lang) was one of the sky people to return to Pandora. Except he was no longer human. Scientists had created bodies that looked like Pandorans. He was now one of the blue people.
Quaritch led a team of military personnel to find Sully. Instead, he found his son, Spider, and kidnapped him.
Kiri saw this happen. She was heartbroken. Not only was he like a sibling to her, but it also appeared they had feelings for each other.
Sully saw how upset she was. He began to comfort her. He told her that things would be okay.
What do you do in times of trouble and stress? Do you freak out with the rest of your team, or do you spring into action to comfort them?
Great leaders put their feelings and emotions aside. They step up and comfort others when needed.
Be the comforter your people need.
6. Jake Sully:
The father protects
Sully had to make a tough decision. He had to choose to leave the safety and comfort of his clan, the Omaticaya, and seek out refuge with the Metkayina clan, a clan of water-based Pandorans.
The choice to leave was one of protection. For his family…
This quote could also be said, "The leader protects."
A leader knows he has a responsibility to his people. Not only is he to be a comforter, but a leader is also a protector.
A leader sees what's coming before others. He knows the decisions that have been made behind closed doors.
Step up. Protect those you lead.
7. You're not going to be good at everything:
The people of the Metkayina weren't especially welcoming to Sully and his family (Neytiri, Tuk, Neteyam, Lo'ak, and Kiri). They were wary of what the presence of these refugees would bring to their people.
One of the things Sully's family learned quickly was that they weren't as skilled as the Metkayina in certain areas. Sure, Sully and his family could swing through trees with ease. But they couldn't swim in the waters like Ronal (Kate Winslet), Tonowari (Cliff Curtis), and their kids, Aonung (Filip Geljo) and Tsireya (Bailey Bass).
They eventually improved their swimming skills, but it wasn't without a lot of effort.
You'll want to be good at everything when you begin to lead. You'll quickly discover that you're not.
Instead, focus on the things that you're good at doing. Work on those. Then, begin to test the waters with new skills you want to obtain.
You'll be able to find time and effort to practice once you've focused on the necessities.
8. Jake Sully:
I don't care how you do it but go make peace.
Lo'ak had gotten into a fight with a few of the Metkayina youth. Sully was livid. He needed to uphold the peace between his family and the new clan they were living with.
Sully demanded Lo'ak go make peace with the boys he'd fought. This caused Lo'ak to get into a dangerous situation. But it also caused him to make peace with the boys finally.
Peace isn't easy to find at times. You'll struggle to find common ground, get over past hurts, and more.
But…
Peace is worth the cost. Work toward making peace with those you struggle with.
9. Our stories reveal who we are:
Lo'ak had been stranded by the boys he was to make peace with. In doing so, they left him wide open to an attack by an aggressive sea creature.
Lo'ak is saved when a whale-like creature, called a Tulkun, attacks. Lo'ak learns that the Tulkun's name is Paykan.
They form a bond as they both are outcasts.
The bond becomes stronger when Paykan allows Lo'ak to bond with him. He shares his story. Lo'ak learns that Paykan was unjustly sent into exile.
Have you shared your story with your people? You may not think your story is important. It is.
Your story will reveal who you are to the people you lead. They will come to know you for who you are.
Share your story.
10. Tsireya:
I see you.
Lo'ak felt like an outcast. He felt as if his father and family didn't value him.
This was when Tsireya spoke up. She let Lo'ak know that he was seen. This changed Lo'ak's life.
Your people are longing to be seen. Acknowledge them.
Help them to understand you see them and that you're there for them.
Be a leader who sees his people.
11. Jake Sully:
Then let's get it done.
Quaritch threatened to kill Sully's family the next time he encountered them. Sully wasn't having any of that.
Sully stood up for his family. More than that, he took action.
Sully challenged Quaritch. He told him, "let's get it done."
Leaders don't twiddle their thumbs. Leaders take action.
Be a leader who leaps into action when needed. Get things done!
If you enjoyed this Reel Leadership article, you may enjoy our collection of Reel Leadership articles eBook. You can get this eBook for free by signing up for updates by clicking here.