Craig Groeschel is the lead pastor at LifeChurch. Through his leadership, the church has become a force to be reckoned with. They've revolutionized the way church is done. LifeChurch is committed to getting the Word of God out to the people through giving away sermon plans, videos, and much more. They're a leading force in the church world.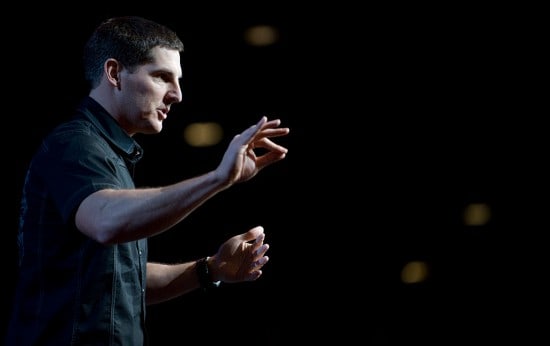 We've just learned that due to inclement weather Craig Groeschel will be unable to join us live. Please keep the community in your prayers.
However, the awesome folks at Catalyst and LifeChurch were able to do a compromise and have a video presentation from Groeschel for us today.
Mark chapter 2:1-5 is the anchor text for Groeschel's message.
How do we create a culture of innovation?
At one point in church history, the church was the innovators. The church influenced the arts and the sciences. The church knew how to create.
Now, the church has lost it's innovation.
Thankfully we can change this travesty. That's good news, right?
We've delegated and handed off creativity to other businesses. Apple, Facebook, GoPro… These shouldn't be the organizations that are innovative. The church should be innovative.
God is good. God is creative. God is innovative. Why shouldn't the church be?
1. Limited resources are needed to be innovative – The church often says we can't because we don't… We don't have enough. We do have what we think we need. We don't have enough money. We don't have enough volunteers.
God has given you everything you need to reach everyone He wants you to reach. You are not as limited as you have.
You don't need a lot to do everything God wants you to do. You need what God has given you. And God has already given you what you need.
Limited resources are not a hindrance for what you need to do. Limited resources are a catalyst for what you can do.
We can because we don't…
Plus
2. A willingness to fail – The mindset of failure is not an option is a mindset that limits us more than frees us to be creative. More often than not, what was built was because you were willing to fail.
You took risks. You took on challenges. You took action.
Not taking risks ultimately leads to failure
You can look at failure as a blessing. Groeschel shared a story of how he grew a church of 100 to 4. Not 400 or 4,000 but 4 people (including himself and his wife). Through the failures, Groeschel was able to learn what not to do. Don't look at failure as final, failure is an opportunity to learn.
The pathway to your greatest potential is straight through your greatest fear.
Plus
3. Increasing passion – Whatever you're working towards, you need to continually increase your passion. For church leaders, this is a passion for God.
This isn't an increasing passion to reach people for Christ. It's not an increasing passion to see changed lives. It's not a passion to take the message of God to the world.
Rather it's a We have to reach people for Christ. We have to see changed lives. We have to take the message of God to the world.
When you have these 3 things you have exponential innovation.
And this is what the church needs. We need to be innovative within the church. We have to.
One way LifeChurch became innovative was looking for ways to get search engine traffic. They tried using the words "Church online" but failed with those ads.
They decided to figure out what people were searching for. One of those search terms was "Naked ladies." When people searched for naked ladies, an ad popped up asking them to attend church online.
Innovative and not sinful! It allowed Groeschel to reach people who wouldn't normally be reached.
Be innovative!
Latest posts by Joseph Lalonde
(see all)