Matt Chandler is the pastor at The Village Church in Highland Village, TX. Not only is he an amazing leadership guru, he's battled cancer and has won the battle.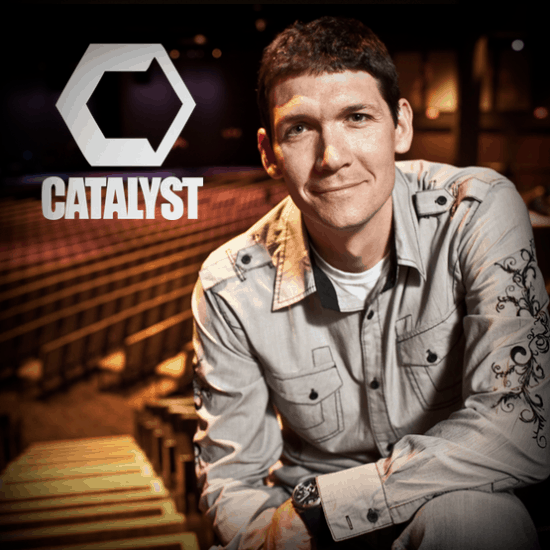 The first day of Catalyst has been amazing. Matt is finishing up the first day of Catalyst and I'm positive he's going to blow us away.
The text Matt Chandler is using for tonight's message is Revelation 7:9-10. Chandler likes this verse because it tells of what will happen in the future.
Christ didn't die for those that might believe but for those that WILL believe.
We can go boldly because we know that our God cannot fail. This should give us hope.
While we're imperfect, God still uses us. How cool is that?
As God calls us out to lead, we can be confident that we will succeed. Why? Because God does not lie when He calls us.
There is different types of dangers. There are dangers we need to be aware of. There is also danger we need to be afraid of.
A great running analogy was dropped. The run we're in is a marathon, it is not a sprint. Change will occur slowly. It cannot be rushed.
We can be used to change hearts but we're not the ones who will actually change the hearts of people. The changing of hearts is God's job.
Could you imagine your city no longer having strip clubs or porn shops or any kind of unlawful activity? That was the state of Ephesus after the spirit of God fell on the city. Are we ready for this as leaders?
Our calling isn't to just preach the gospel on Sundays or Wednesdays or whenever your services are held. We're called to preach the Word all the time, in season and out of season.
There are three ways we can do this:
1. Reprove –
To reprove you have to know what's in the Bible and believe in the Bible. You cannot reprove by what sounds right.
2. Rebuke – 
You have to enter the space where there is error. We are able to tell others to be careful, things may end in trouble if you keep going in the direction you're going.
3. Exhort –
We're not left with rebuke and reproof. God goes one step further. He takes us to exhortation.
Exhort. Encourage. Speak life into. Applaud.
This should be the result of reproof and rebuke.
It doesn't take too long to hang out with someone to figure out whether they've read the Bible or the Bible has read them.
Whoa, super heavy quote by Matt Chandler there.
The accommodations we're making to make the Bible more palatable and acceptable by culture is not progress. It is death.
People are going to be need to be saved by God. That's not cool today but we can't be accommodating in this area.
If we don't need Jesus to open hearts and open eyes, where is the power of the church? This is why we need to be wary of accommodating. Giving up on the power of Jesus negates the power of God.
Stay even-keeled. Be calm in spirit:
We need to take care of ourselves in our call of a marathon ministry. So, what do we do to take care of our spirit.
Be serious about rest. Learn to take rest, not vacations or fun times, but a time of refreshing rest in the Lord.
Carefully guard and care for our hearts: Pay attention to what you're thinking. Your thoughts are public to the only one who really matters. There are no secrets.
We don't take every thought captive so we have this little pet lion in our mind. We justify the little feeding of the lion.
This means thinking unclean thoughts. This means thinking greedy thoughts. This means thinking the things that aren't holy.
Pay attention for signs you're fatigued: Check yourself to see if you're loving and compassionate to the ones you're leading and serving. When you begin to lose the love and compassion, you're more than likely becoming fatigued.
The desire to avoid difficult people can mean that you're walking in the flesh. I've been there. Matt's been there. You've probably been there.
Watch your rhythms: Create rhythms in your life that can restore you. You can have routines that will call you back to where you need to be.
You could have prayer retreats, time to get away from everything else, or set aside time to dig into the Bible. Find your rhythm here and get into it.
Learn to find that your worth isn't in doing but in being.
Endure suffering: Paul continues to pound into Timothy that suffering is a part of following Christ. You cannot separate that from the life you've been given.
Suffering isn't pleasant. In fact, it sucks. Yet we're called to suffer, we shouldn't be surprised by suffering.
Do the work of an evangelist: This is an interesting point. I've been taught that we should work in our spiritual gifts and evangelism is one of those gifts.
When you do the work of an evangelist, you're reminded of how sharp you're not. The work of an evangelist will put you on your face. Your experience as an evangelist will also show you how your heart is towards God.
Things people are happy about, people are open and ready to share about what they love. This helps you to check your heart.
Fulfill YOUR ministry: Taking on your ministry and not the ministry of others has been a heavy theme of Catalyst Atlanta this year. Are you working on someone's ministry because you want to be someone else or are you doing what you're doing in ministry because it's what you're really called to.
Love your ministry. Live out your ministry. Do your ministry.
Seek to become the best leader you can. Seek out the best practices. But BE YOU.
Latest posts by Joseph Lalonde
(see all)