You regularly hear from me on topics ranging from leadership to personal development to family matters. Today, I want to introduce you to a few amazing leaders I've met in my journey.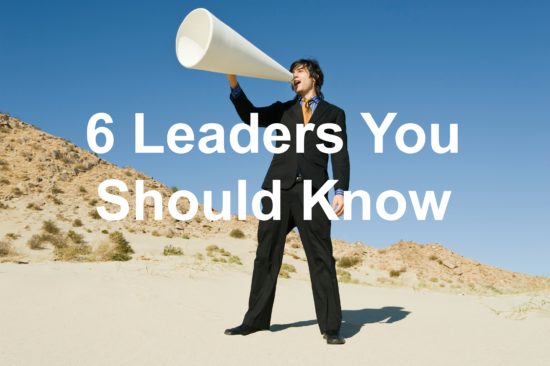 6 Leaders You Should Know
1. Brian Dodd:
Brian's been a good friend of mine for quite a few years. Originally, Dan Black introduced me to him. Then, I had the pleasure of meeting Brian in person at a Catalyst Conference.
I've followed Brian and have really enjoyed his perspective on leadership. He uses sports, movies, and more to share leadership wisdom.
You can check him out at his website.
2. Paul Sohn:
Paul's another person I had the pleasure of our first in-person meeting being at Catalyst. It's a melting pot of church leadership.
But the reason I include Paul on my list is because he's reaching out to the millennial generation. That's where his heart lies, that's where he puts his effort into.
I love that about Paul. The passion and desire to see young people leading well. That's Paul in a nutshell.
You can find Paul on his website.
3. John Ramstead:
John's the host of the Eternal Leadership podcast.
John was once an F-14 fighter pilot. He's flown in Desert Storm. And was invited to instruct at Top Gun.
Then a softball accident caused him to lose vision in his left eye. He could no longer do what he loved to do.
Not only did he face this injury, years later he lost 7 teeth and crushed his face in a horseback riding accident.
Through these experiences and more, John shares invaluable leadership lessons you'd be foolish to miss.
You can see what John is up to at his website.
4. Rich Lohman:
Rich is a local leader I've connected with in the last year or so. He consults with businesses through his organization WooHooing!.
Yeah, woohooing. The name is funny, his results are serious.
Rich loves helping people become better versions of themselves.
You won't want to miss what Rich is doing at his website.
5. Richard Medcalf:
I discovered Richard through his efforts to reach out to me. He was launching a huge giveaway and wanted my help.
From there, I've fallen in love with what Richard is doing at Purposeful People.
He's helping people find the contribution they're called to make, choosing smart changes to their lifestyle, and how to move forward in the areas of life that truly matter.
You need to check out his website.
6. Robert Kennedy III:
No, Robert isn't part of the Kennedy clan including JFK or the other Robert Kennedy.
This Robert Kennedy has made it his goal in life to help people create hope, generate excitement, and belief in their own capacity to change lives.
He's doing that. And more.
You will want to check out his website.
Question: What other leaders should we get to know? Share your recommendation in the blog comments below.