I love consuming the content of books. Men and women have poured their blood, sweat, and tears into crafting a book worth reading.
Years of knowledge are condensed into 200 or so words. Or new worlds are available to us when we crack open a book.
Knowing that, and the fact that I had 2 Audible credits (get a free trial to Audible by clicking on the link) left, I took to Facebook to see what I should read.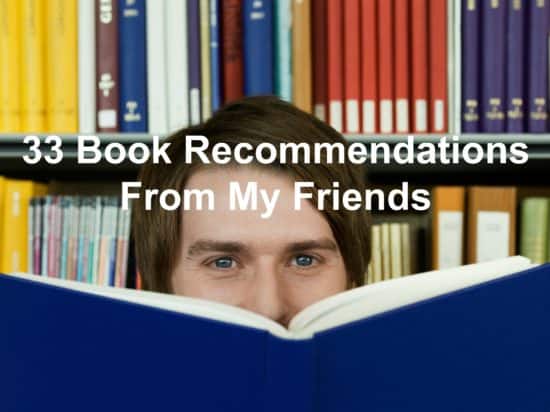 Once I asked the question, the book recommendations poured in. I was overwhelmed with the response.
In total, 33 books were recommended at the time I wrote this. Many I'd already read.
In honor of those who shared their book recommendations with me, I wanted to share them with you.
33 Books You Should Read
As Recommended By My Friends
1. The 50th Law by 50 Cent and Robert Greene – Ken Vanderstelt
2. The Power Of The Other by Dr. Henry Cloud – Rich Lohman
3. 48 Laws Of Power by Robert Greene – Alex Barker
4. Chase The Lion by Mark Batterson – Charles Johnston
5. Moving Mountains by John Eldredge – Charles Johnston
6. Duma Key by Stephen King – Rob Sorbo
7. Creating Magic by Lee Cockerell – Jody Mayberry
8. Into Thin Air by Jon Krakauer and Randy Rackliff – Scott Cuzzo
9. Deep & Wide by Andy Stanley – Ivan Oreamuno Canizal
10. Altar Ego by Craig Groeschel – Ivan Oreamuno Canizal
11. The Oz Principle by Roger Connors – Ivan Oreamuno Canizal
12. Rich Dad, Poor Dad by Robert Kiyosaki – Brian Lund
13. The Talent Masters by Ram Charan – Dan Black
14. The Ideal Team Player by Patrick Lencioni – Dan Black
15. Lead Your Boss by John Baldoni – Dan Black
16. Team Of Rivals by Dorris Goodwin – Dan Black
17. So What, Next Pitch! by Brian Cain – Dan Vaughan
18. The Daily Dominator by Brian Cain – Dan Vaughan
19. Toilets, Bricks, Fish Hooks, And Pride by Brian Cain – Dan Vaughan
20. How To Be Here by Rob Bell – Barry Hill
21. The Charisma Myth by Olivia Cabane – Jim Jensen
22. War Of Art by Steven Pressfield – Jim Jensen
23. The Bad Habits Of Jesus by Leonard Sweet – Darren Anderson
24. The Joe Pickett Series by CJ Box – Laura Bawidamann
25. Unbroken by Laura Hillenbrand – Nathan Magnuson
26. Creative Confidence by Tom Kelley – Nathan Magnuson
27. Appointments With Heaven by Dr. Reggie Anderson – Linda Lochridge Hoenigsberg
28. The Wheel Of Time by Robert Jordan – JonMark Baker
29. The Narnia Series by J.R.R. Tolkien – Richard Medcalf
30. Book Of Joby by Mark Ferrari – Joseph Neal Kiesgen
31. Wizards First Rule by Terry Goodkind – Michael Nowak
32. Lead By Example by John Baldoni – Dan Black
33. Emotionally Healthy Spirituality by Peter Scarzzero – Dan Black
*Recommender's name is in green.
Those are the book recommendations from my friends. There's a lot to digest. And I still had to choose 2!
So, what did I spend my Audible credits on? Well, I actually purchased 3 of the recommended books –
Creating Magic
Into Thin Air
Moving Mountains
I'm excited to dig into these 3 books, especially Into Thin Air about the deadliest season in the history of Mount Everest and Moving Mountains as prayer is something I'm working on.
Question: What book(s) are you most excited to read? Share your book recommendation in the comment section below.