Has anyone ever told you that you're too young to lead? Maybe they've told you that you don't know enough yet. You haven't reached the age of maturity.
Some of those concerns are valid. You might not know as much as you need to. Or you might be a lot younger than those you're going to be leading.
Yet being young shouldn't stop you from leading. Rather, you should be encouraged to lead when you're young.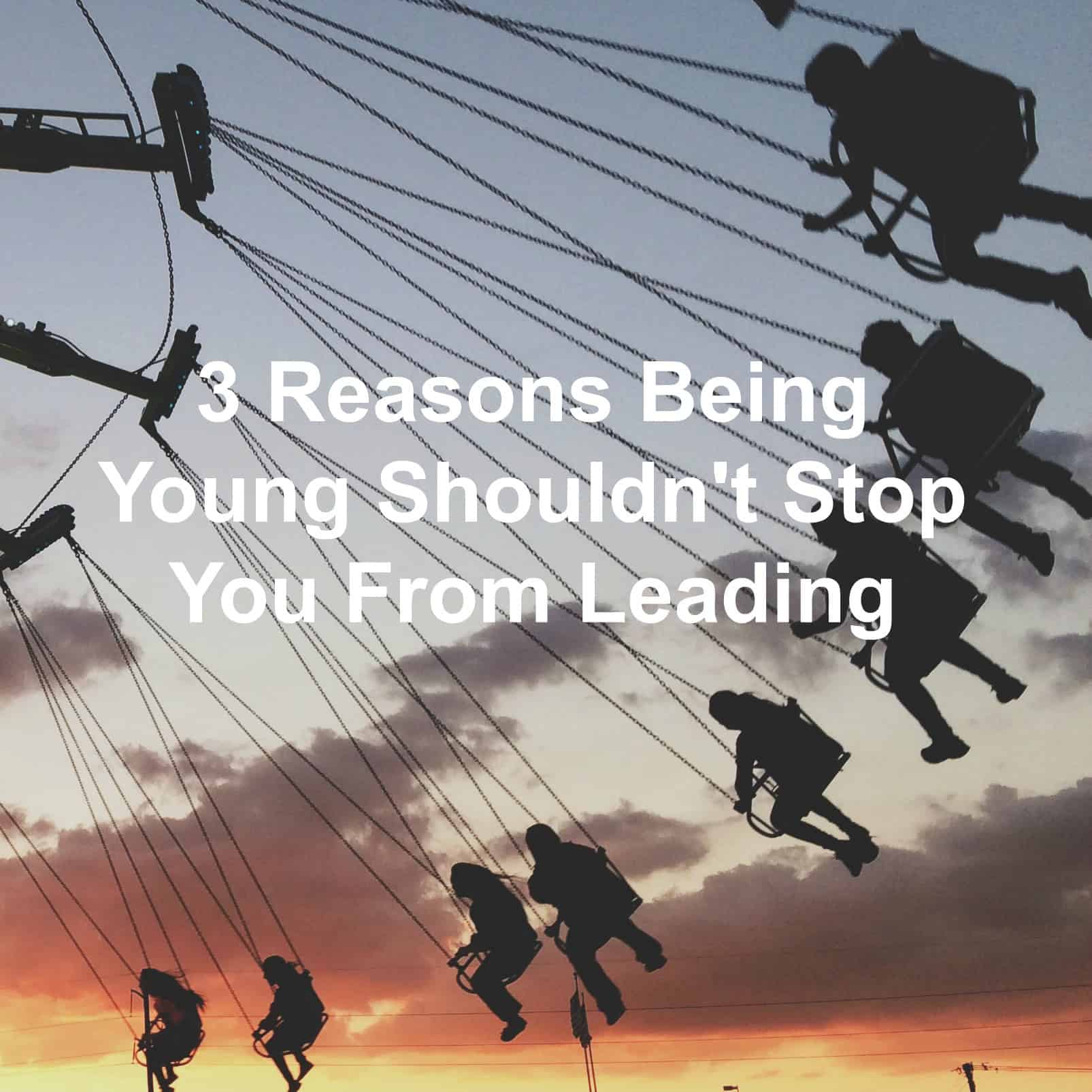 Yes, you're young…
There are many issues that can arise because of your youth.
You might easily be distracted by the next shiny thing. You might not know everything there is to know about the situation you're leading the organization into. Or you might not have buy-in from those around you, after all, you're half their age.
Leading when you're young can be tough. You feel discouraged and that your voice doesn't matter.
People will bring up your inexperience because of your youth. They'll tell you that you don't know what you're doing.
And that might be the case. With your youth, you don't have the experience others do. But you have something else…
Being young shouldn't stop you from leading
Instead of looking at your youth as a hindrance, I believe your youth is an asset. Something you have that other leaders in your organization don't have.
A Bible verse I always like to refer to when I think of youthful leadership is 1 Timothy 4:12:
Let no one despise you for your youth, but set the believers an example in speech, in conduct, in love, in faith, in purity.
This lets you know that your youth isn't a negative. Instead, you can actually set the example for others.
On top of that, let's take a look at 3 reasons being young shouldn't stop you from leading:
1. Youth brings extra energy:
There's something to be said about young leaders. You're excitable and ready to pour all of your energy into the next project.
Use your energy to outwork those who feel you're too young. You can keep going when they can't.
2. Youth brings new ideas:
When leadership is filled with leaders that are older, new ideas are harder to come by.
These leaders have worked closely together and formed similar opinions. Bringing a more youthful leader into the mix changes things up.
Young leaders tend to have ideas that haven't been tried before. They see things differently than leaders who have been in their positions for a long time.
3. Youth brings technology to the forefront:
The older we get, the more stuck in our old ways we get. Much like new ideas, older leaders can have trouble using technology.
As a younger leader, you can bring in your knowledge of new technologies and show others how to leverage said tech.
You can explain how Twitter will help expand the reach of the non-profit you're working for. You can show how having a website gets more eyes on your brand. Or you might have all of the leaders take a look at the Yelp reviews for your business and open their eyes to how people truly see the organization.
Being a young leader isn't a bad thing. In fact, being a young leader is one of the best things that can happen to you.
Your influence will begin at a much younger age. You can impact those behind you, alongside you, and in front you.
Go! Lead well.
Question: Do you struggle with being a young leader? Why or why not? Share your experience in the comment section below.