One of the things I've struggled with as a youth leader has been how we call others to a saving knowledge of Christ. It always seemed so hooky.
The typical way we present Christ is through a message on a Sunday morning or Wednesday night. We share about Christ's work and then invite people to accept Him into their hearts.
That or we do run-and-gun missionary work. This is where you hit the streets, tell the world they're sinners, and try to get them to repent.
Now, these methods have worked, or seemed to work, for quite some time. But I've always wondered if there was a better way to promote the Gospel and tell of what Christ has done.
My friend, Dave Arnold, recently released his new book titled Building Friendships: The Foundation For Missional Engagement. And his book hit on something that's been stirring within me.
Dave knows how to build relationships. Not only relationships but relationships that draw people to Christ.
Today, I want to share 3 of the ways you can build better missional relationships that will change the lives of people you know.
Create Missional Relationships
Learn to listen: When presenting the Gospel, we feel we have to share our experience. We have to let people know how Christ changed us.Oft times, this is jumping the gun.

Rather than sharing your story, begin to ask questions of those around you. Seek to understand where they're at in their lives and what they're looking for.

Dave tells us to find out what their needs are: the hurts, hopes, and fears. Everything we tend to bypass when sharing God with others.

Listen, learn, then share.

Show up: If there was one thing that I learned in leading a youth group, it was that you had to show up. Week in, week out… We needed to be there.By showing up, we built relationships. We displayed our care for the students. We showed them they were more important than other happenings in our lives.

You need to show up to create meaningful relationships.

Make room: I believe this goes hand in hand with showing up. To build missional relationships, we have to be willing to make room in our lives.You make room when you create margin in your schedule to show up to events that are important to the lives of those you're ministering to.

You make room by opening the doors of your home. Invite people in for dinner or to watch a movie.

You make room by going into your city and helping the less fortunate. Work in a soup kitchen or volunteer at a home for battered women.

Make room for people in your life. They're what it's all about anyways.
When we begin looking at missions as more relational than outreach, we'll begin to change the world. We won't hit people with the shock-and-awe missions so many are used to.
Instead, you'll begin to create meaningful relationships. Ones that might make a true change in the lives of your friends, family, and community.
Learn More About Building Missional Relationships
This is but a small sampling of what we can do to build missional relationships in our communities. We can go much deeper than this, but I'll reserve that for Dave's book.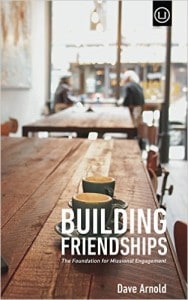 If you want to pick up a copy, it's available at Amazon for $0.99.
Building Friendships is a quick read but packed with real-life applications on how to do so better.
Question: How are you building missional relationships in your life? Let's talk about this in the comment section below.
Latest posts by Joseph Lalonde
(see all)