Mark Sanborn, author of Fred Factor and Fred Factor 2.0 (along with 6 other titles), is a powerful force in the leadership world. He's the president of Sanborn & Associates, authority on leadership, and a great public speaker.
Mark graciously gave a few minutes of his day to answer a couple of burning leadership questions I had.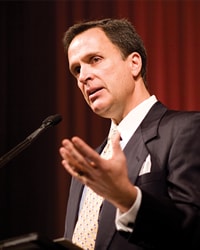 In the following interview with Mark, I asked:
Mark, you've written quite a few books. Two of your books focus on a man named Fred. Can you tell us a little about Fred?
You focus on relationships quite a bit, right?
How do you decide which relationships you need to nourish?
Your philosophy on relationships sounds a lot like the 80/20 rule. Can you expand on that?
How do you take people beyond your books and get people to actually engage in the message you're sharing?
Do you have a distinction on leaders or leadership?
What can a small L leader do to improve or move up to a big L leader?

Books mentioned:
Fred Factor (In the recording Mark mentions you can get the book for free from his website. As this interview was recorded a few months ago, it looks like the offer is no longer valid. However, his website, does offer a free The Fred Factor audio lesson.)
You Don't Need A Title To Be A Leader
Question: If you had the opportunity to sit down with Mark Sanborn and ask him any question, what would you ask him? Please share your question in the comment section below.
Latest posts by Joseph Lalonde
(see all)