August 23, 2010 was any parents' worst nightmare. This was the day my wife, Melissa, and I received the results of our daughter's biopsy.
"I'm so sorry, Mr. and Mrs. Barrett," said Dr. Thompson. "Kristina has cancer."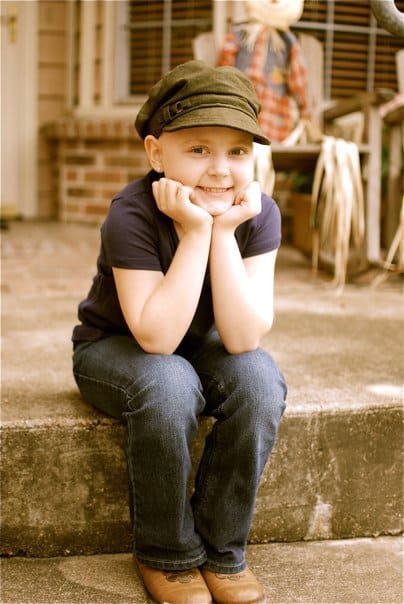 It felt like all the oxygen was sucked out of the room. Our 8-year-old little girl's future had just become completely uncertain.
By the time of her diagnosis, the rare cancer (Clear Cell Sarcoma) had already spread to her lungs. And her prognosis was listed as "dismal."
Any time someone is faced with tremendous fears such as this, it's difficult to control emotions. No, it's virtually impossible. But one truth we've found is that feelings are controlled by our thoughts. Interesting enough is that the Bible doesn't tell us to control our feelings. It tells us to control our thoughts (2 Corinthians 10:5).
The only way Melissa and I have been able to control our thoughts is to replace the negative ones with what we know is true. Check this out:
Philippians 4:8-10,
Finally, brethren, whatever things are true, whatever things are noble, whatever things are just, whatever things are pure, whatever things are lovely, whatever things are of good report, if there is any virtue and if there is anything praiseworthy — meditate on these things. The things which you learned and received and heard and saw in me, these do, and the God of peace will be with you.
It's so easy for my imagination to run away with—well—the rest of me. Sometimes I tell myself that I need to think about the worst that could happen to Kristina so I can prepare myself for it.
Sheesh! That's such a man thing, isn't it? Like I could handle the death of a child by just thinking about it. And it's such a "me" thing, too. Wow. Pride is so deceptive. No wonder I don't have any peace at those times!
There have been times these past couple of years when I don't know what to think about. But God tells me what to think about.
Truth: God is good all the time. He is bigger than cancer, fear, uncertainty, sadness, and anger. And He loves Kristina more than we do.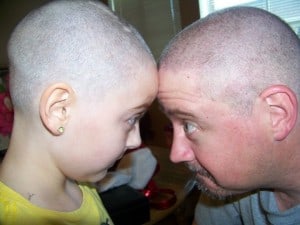 Noble: His majesty. His glory. His power. He is worthy of our respect and honor, even while we wait, hurt, and wait some more.
Just (Right): Through this suffering, we all are being conformed more and more to the likeness of Christ.
Pure: His grace is pure. His peace is untainted. We can indulge in all of it.
Lovely: The many friends and family we have who are praying for, supporting, encouraging, and blessing us. My wife and children are lovely. Kristina is lovely.
Good report: Man's report regarding cancer can never master over God's report.
These things are virtuous and praiseworthy. Thinking on these doesn't give us peace. They give us the GOD of peace. And He is the only one who can carry us through such difficult times. His peace radiates through us despite the pain we feel. His peace tells us that, no matter what, we will be OK. Kristina will be OK.
Here we are, two years later, and her tumors haven't changed at all! We don't know what will happen in her future, but we are learning a few things about receiving God's peace: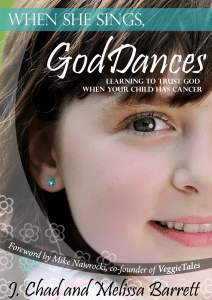 Our emotions always follow our thoughts.
Truthful thoughts produce the peace of God.
We can't eliminate negative thoughts, but we can replace them with truth.
God's Word is truth.
Think on these things.
Melissa and I recently published an ebook about our journey with Kristina. It's called When She Sings, God Dances. You can get it here.
This is a guest post by Chad Barrett. He is the Director of Child Evangelism Fellowship of Greater Houston and Director of Inspiring Evangelism, a ministry dedicated to inspiring and training believers to share the gospel effectively. He is a speaker and has authored two books, Journey to Freedom: The Pursuit of Authentic Fellowship among Men, and The RADIUS Initiative. He lives with his gorgeous wife, Melissa, and their 4 kids. You can connect with Chad on Facebook, Twitter, or at his blog.