Do you get sucked into Black Friday deals like the deals are a black hole? It is easy to be sucked into the deals on Black Friday because of the low price points. However, many people have regrets over their purchases on Black Friday.
It doesn't have to be this way. You don't have to regret your Black Friday purchases like you do after stuffing your face on Thanksgiving. There are deals out there on Black Friday that can leave you feeling satisfied.
These deals are deals that can help you improve your leadership abilities or productivity. Today, we're going to look at the best Black Friday deals for leaders.
The Best Black Friday Deals For Leaders
1. 15% off everything in the Full Focus Store:
Michael Hyatt's Full Focus planners, journals, and notebooks are stylish and classic. You can't go wrong picking one of these items up. Especially when you are able to get 15% off of everything in the Full Focus store.
Check out what Michael Hyatt and his crew have for you here.
2. Dirt cheap Udemy courses:
Udemy offers courses to help you improve yourself, your ideas, and your organization. This year during Black Friday Weekend, Udemy is offering courses as low as $11.99 per course. You can see what they have to offer here.
My suggestions? Check out these courses –
Radiate Confidence: How to Create a 1000 Watt Presence
Leadership: Practical Leadership Skills
Goal Setting to Success: Life Coach Certification Accredited
These courses will help you become a better you and a better leader.
3. AppSumo's Best Deals Of The Year (10 Great Deals Are Coming Back):
AppSumo is bringing back their best deals for Black Friday. They haven't yet released what they will be but you can be sure they'll help you market your business better.
To get your AppSumo Black Friday deal, click here.
4. Dave Ramsey Books:
Dave Ramsey has done more for money and budgeting than almost any other person alive. He has helped change the lives of those who follow his methods. He's changed my life and his books are available at a great discount for Black Friday.
Check out Dave's website here. You'll find great deals on his books including Total Money Makeover, Everyday Millionaires, and Financial Peace University.
These are but a few of the Black Friday deals leaders should consider taking advantage of. There are others and I will add to the list as I see them appear.
Check them out. Let me know what Black Friday deal worked best for you.
5. Catalyst Conference Deals:
If you've followed me for any amount of time, you know of my love for the Catalyst Leadership Conference. This year, they have 3 Black Friday deals.
Catalyst West 2020 Ticket with a bonus of the full digital access to Catalyst West 2018 and 2019 for $199.
Catalyst Atlanta 2020 Ticket with full digital access to Catalyst Atlanta 2018 and 2019.
Digital access for all Catalyst 2019 events are 50% off.
6. Buy One Get One Free Aftershokz Bone Conducting Headphones:
If you're a physically healthy leader or a leader on the go who loves to listen to podcasts or audiobooks, the Aftershokz Black Friday deal is amazing. Aftershokz created a top of the line Bluetooth, bone-conducting headphones.
These babies are nothing short of a godsend. I trained for and ran my first marathon with these headphones. They helped me stay focused but also allowed me to pay attention to my surroundings.
Aftershokz Black Friday deal is buy one pair of headphones, get a pair of refurbished Aftershokz Titanium headphones. Two pairs for the price of one so you can have one at the office and one at home when you train.
To learn more about this deal, go here.
7. Saddleback Gift Card With Purchase:
Saddleback Leather makes some of the most elegant, well-made leather products out there. I'd never heard of them until 6-7 years ago when Kevin Miller mentioned them on his now-defunct podcast Free Agent Academy. Since that time, my wife and I have purchased their quality products time and again, including my killer laptop carrying bag.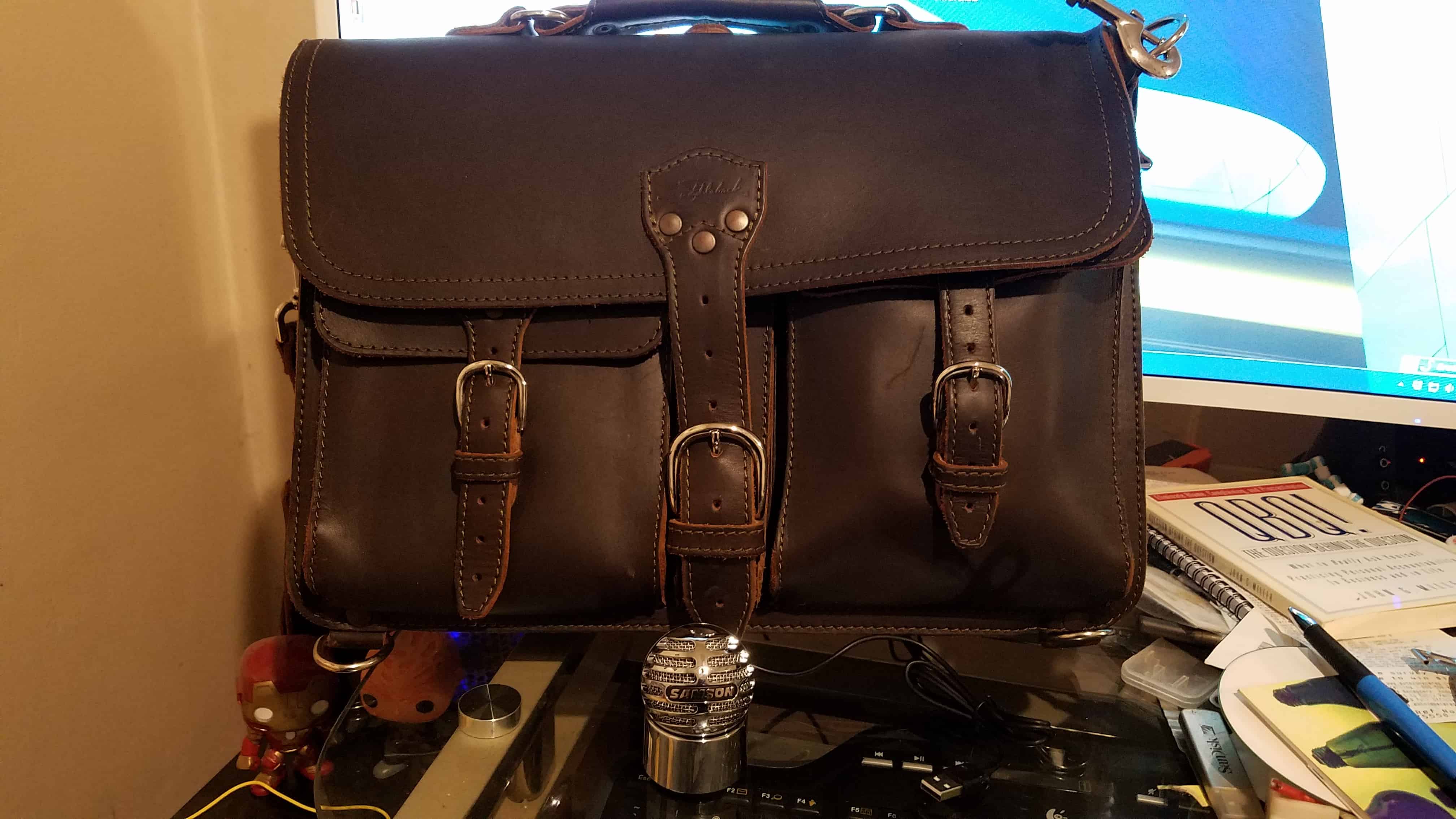 Saddleback is offering two Black Friday/Cyber Monday specials.
Spend between $300 and $499 & get a $50 gift card. Spend $500 or more and get a $100 gift card.
You won't be disappointed with the quality.
8. Up To 84% Off Brian Tracy Products:
Brian has inspired me over the years. This year, he's offering up a bounty of productivity and development programs on Black Friday.
The discounts vary on the products but they're great none the less. Click here to get your deal.
9. Success Store Black Friday Deals:
There are many great products in the success.com store this Black Friday. Products range in price from $7 to $167.
You will be inspired by the products contained in the store. To get your deal, click here.
10. Audible Black Friday Sale:
With all of the running I do, I've fallen in love with audiobooks. They allow me to take my learning on the road and combine my love of running with my love of learning.
Audible.com is offering many great books at a steep discount in their Black Friday sale. To find a book or two (or maybe 4, 5, or 20) you'll love, click here.
11. Ultimate Bundles Packages:
Ultimate Bundles is a great site to get books and resources for an inexpensive price. They bundle, hence the name, books, products, resources together for one low price. This year, they have two bundles I think are great values.
The first is the Invest In Your Faith bundle. It's on sale for $7. For $7, you get:
30 Day Gratitude Planner

by Alicia Hunter (Workbook) $7.00




Designed to inspire, encourage, reflect, and organize your life. 
Anchored Hope Prints: Scripture Art for the Home

by Ashley Rose (Printable) $18.00




Includes five uniquely designed art prints, each featuring a different Bible verse. 
Fill Your Cup: A Grace-Filled Course to Help you Pour In so you can Flow Out

by Victoria Osborn (eCourse) $37.00




Helps you understand what true Biblical self-care is and helps you create a soul-care blueprint to help you navigate how to care for yourself and live the intentional Grace-filled life with great faith, joy, peace, love, and purpose.
Find Your Calling: 3 Week Study to Confidence and Clarity in Where God Wants You

by Nicole Kauffman (Workbook) $10.00




This study will help you discover your purpose and calling as a part of God's plan for you.
God & Money: A 6-week Journey Exploring what the Bible has to say about Money

by Bob Lotich and Joe Plemon (eBook) $9.99




A 6-week Christian financial Bible study for individuals, small groups, and churches.
Great Hymns of the Faith: A Hymn Study for All Ages

by Gena Mayo (eCourse) $67.00




Includes a variety of activities and resources such as videos, devotionals, copywork, and Bible studies to help you grow in your faith and understanding about 10 great hymns of the Christian faith.
How to Create and Cultivate a Growing Prayer Life

by Sarah Frazer (eCourse) $27.00




Sarah wants to help you begin and develop a vibrant prayer life. 
Promise Keeper: Uncovering God's Promises in Psalm 23

by LaToya Edwards (eCourse) $29.00




Understand all the promises God makes to you during hard times in Psalm 23. 
Re:create Creative Projects Devotional

by Abi Partridge (eBook) $14.99




A combination of writings on how God restores your creative soul and devotional creative projects that allow time to spend with him and focus on the meaning the projects express. It is a visual, thoughtful & creative experience.

Scripture Memory Cards by Jami Balmet (Printable) $14.99


Memorize God's word with these beautiful 12 sets of Scripture memory cards
The second bundle is the Master Your Money Super Bundle. This bundle is selling for $37 + $10 for the cheat sheets. This bundle is packed full of content. For $37, you get:
Better Budgeting
Budgeting That Works: Live a life you love & run your money your way!
eBook by Caroline Vencil ($47.00)
Unlock the secret key you've been missing to finally make a budget that clicks and sticks!
Busy on a Budget
eCourse by Cara Harvey ($59.00)
A self paced e-course that helps you learn to create a budget for your family that is simple to follow, learn how to pay off debt fast and help you gain control of your finances!
How to Budget Even if you HATE Budgeting
video presentation by Taylor Medine ($19.00)
Learn how to better manage your money even if you're not the best at budgeting and you prefer not to maintain regular budget spreadsheets.
How to Eat Healthy Whole Foods without Spending Your Whole Paycheck
Video presentation by Ginger Hudock ($19.00)
Watch this video and learn 10 tips to help you budget for your groceries and save money on healthy whole foods.
Monthly Budget Trackers: Making Every Penny Count
Printables by Jessica Evans ($2.95)
Simple printable pack to help you track your monthly budget and expose wasteful spending.
The Budgeting Binder
Printables by Kelan & Brittany Kline ($9.00)
This 20+ page printable and digital budget binder comes with everything you need to help you start a budget that actually works, track your spending, prepare for emergencies, pay off your debt, and release some of the financial stress in your life.
The Ultimate Budget Breakdown
Workbook by Amy Raines ($27.00)
Helps you create a budget that works for your life with step-by-step instructions.
Defeat Debt
Debt Free Guide: Practical Tips and Lessons To Reach Debt Freedom
eBook by Allison Baggerly ($19.00)
Teaches you how to pay off debt fast and stay motivated even when you live paycheck to paycheck!
Debt Free in 18 Months
eCourse by Deacon Hayes ($67.00)
A proven strategy for eliminating $52,000 in debt in 18 months.
Pay Your Student Loans Fast: A Proven Plan for Eliminating $42,000 of Student Debt in Less Than 3 Years
eBook by Val Breit ($3.99)
A proven plan and inspiring guide that shows exactly how to eliminate over $42,000 in student loans in less than 3 years. 
Public Service Loan Forgiveness Training
eCourse by Robert Farrington ($9.00)
Everything you need to know about Public Service Loan Forgiveness.
Student Loan Knockout
By Zina Kumok ($49.00)
This course shows you how to master your finances, take control of your student loans and create a financial plan that works for you.
Family Finances
DIY Financial Planning: Home Purchase
eCourse by Marriage Money Bootcamp ($80.00)
Step-by-step video course for creating a financial plan for your first home purchase.
How to Financially Prepare your Family for a New Baby
Video presentation by Lauren Daly ($19.00)
Lauren shares how her family saved thousands for their new baby, and how they came up with just how much they need. She will show you how to bring baby home with one less (financial) worry!
How to Live on One Income: Steps to Make it Work
eBook by Apryl Griffith ($5.00)
Living on one income is possible. For the past 10 years Apryl has been living on one income. She is excited to share the steps she took to make it work.
Money & Marriage Bundle
Workbook by Nicole Rule ($27.00)
A money coach bringing joy into money management. Communicating openly and authentically about money is the key to eliminating scarcity, anxiety and money fights in a marriage. Make a life you love. Start with your money. Do it together.
Money Talks: The Ultimate Couple's Guide To Communicating About Money
eBook by Talaat & Tai McNeely ($9.99)
Helps you open the lines of communication with your spouse, and reveals how you and your spouse can align yourselves together financially.
Teaching Kids About Money: Practical Ways to Raise Financially Savvy Kids
Video presentation by Brendie Heter ($19.00)
Shows parents how to take advantage of every day "teachable moments" and change the financial path of the next generation. Brendie, a trained financial coach, wants parents to feel confident regarding this sometimes overwhelming topic.
Increasing Your Income
Fancy Serial Numbers for Fun and Profit: Cash In on the Treasures Hidden in Your Wallet
eBook by John Wedding ($7.77)
Learn how to cash in on treasures called "fancy serial numbers" that could be in your wallet right now; gain knowledge that can turn that dollar bill into a nice dinner — or even a weekend getaway!
Great Ways to Make Money in Your Spare Time
eBook by Angie Nelson ($7.00)
This eBook will introduce you to some great ways to earn extra cash without a lot of extra time. 
How I Made Over $12,000 Investing When The Stock Market Was Falling
Video presentation by Teri Ijeoma ($19.00)
Teaches you the top four secrets to make regular daily or weekly income using the stock market.
How To Earn A Living While Traveling Full-Time
Video presentation by Sean & Julie Chickery ($19.00)
Identify ways to earn an income while realizing your travel dreams. 
How to Generate Passive Income with a Self-Published Book on Amazon
Video presentation by Jen Ruiz ($19.00)
Learn how to self-publish your book.
Pay Yourself with a Profitable Side Hustle using Profit First
Video presentation by Amber Dugger ($19.00)
Amber wants to help you make the most out of your side hustle so that you are able to meet your financial goals, have enough set aside for taxes and pay yourself consistently using principals from the best selling book Profit First by Mike Michalowicz.
Side Hustle Starter Kit
Workbook by Nicole Butler ($27.00)
Ready to start making extra money from home but you don't know where to begin? Do you want to see your idea come to life? Includes a Business Launch Plan, Expense Tracker and more!
Managing Money
7 Steps to a Financial Clean House
eCourse by Dawn ($36.00)
This email course will step you through the process to finally take control of your money and build financial security.
Biblical Money Management: What to Do with a Rolls Royce Lifestyle, When You Live on a Honda Paycheck
eBook by Kerry Beck ($15.00)
After reviewing what the Bible says about money, Kerry offers practical examples on how you can manage your money and teach your kids good money management skills.
Financial Freedom Planner
Workbook by Jen Smith ($19.00)
An all-in-one guide to help you make long-term financial goals and short-term action plans that will get you to financial freedom faster.
Fixing Your Finances: A Practical Guide To Managing Money and Eliminating Debt
eBook by Ellen Ross ($8.99)
Explains how to take control of your finances in a realistic manner and achieve your financial goals. 
Full-Time RV Finance: Learn How to Afford Your Full-Time RV Travel Dreams
eBook by Sean & Julie Chickery ($3.99)
Helps you prepare financially for the full-time RV lifestyle.
How to Move Beyond the Budget and Build Lasting Wealth
Video presentation by Nicole Hatcher ($19.00)
Learn why budgeting is critical to achieving financial freedom (but also why it's only the tip of the iceberg).
Personal Finance Essentials
Interactive Workbook by Kathryn Hanna ($24.00)
This spreadsheet will change the way you view your finances by helping you organize and analyze your data to reach your financial goals.
The 4% Rule: Safe Withdrawal Rates In Retirement
eBook by Todd Tresidder ($4.99)
The knowledge contained in this book will help you remove the uncertainty around retirement savings and deepen your understanding of strategies other than the 4% rule so you can retire worry-free.
The Financial Reboot: Take Control of Your Finances
eBook by Tracie Fobes ($9.99)
Helps you get out from beneath the financial burdens keeping you up at night.
The Financial Renovation
eCourse by Lauren Greutman ($99.00)
This course helps families create financial freedom by sharing simple, easy ways to take back control of their money, live within their means, and create the simpler, happier life they've always dreamed of.
The Quick Start Guide to Ditching the Cards and Living on Cash
eBook by Angela Davis ($27.00)
Shows you step-by-step how to transition from using your credit and debit cards to pay for life to using cold hard cash. Includes worksheets and a customizable spreadsheet to help you live on less than you make and meet your financial goals.
Money Mindset
21 Day Money Challenge: Jumpstart Your Journey to Financial Freedom
eCourse by Nicole Hatcher ($21.00)
A complete in-depth course that includes 21 real-world money lessons to help you get financial results quickly without overwhelm.
5 Ways Savvy Women Practice Financial Self Care
Video presentation by Takisha Artis ($19.00)
Teaches you how to start confidently handling your money and make better financial decisions with these 5 savvy tips to make financial self-care part of your lifestyle.
Change Your Money Story
eCourse by Eileen Adamson ($63.00)
An exciting 5 day course to help to create a happier, healthier and wealthier relationship with money.
How To Be Frugal
eCourse by Jennifer Roskamp ($99.00)
This self paced course teaches you how to create a budget, how to feed a family frugally, how to shop smart both online and in the store, how to use coupons, how to save money around your home, and so much more.
Managing Money God's Way: A 31-Day Daily Devotional About Stewardship and Biblical Giving
eBook by Bob Lotich ($9.99)
Join Bob in this 31-day daily devotional as he shares his own experiences, insights, questions, and discoveries about Biblical money management and what we can do to be better stewards of our money. 
The 5 Life-Changing Steps to Making Budgeting FUN!
Video presentation by Nicole Rule ($19.00)
An overview of the Greatest Worth signature process of money management. A process that eliminates money worries and instead brings you JOY and fulfillment. Make a life you love. Start with your money.
Saving Money
30 Day Money Saving Challenge
Workbook by Amanda Waterston ($21.00)
Will help you find new ways to save and manage your money if you're up for the challenge!
Saving More, Spending Less
Workbook by Isabel Freitas ($19.00)
This workbook will help you actually enjoy the money you already make and put it to work for you! So you can start living more and giving more!
The Quick Guide to Saving Money on Groceries with Printable Pack
eBook by Lisa Sharp ($5.00)
Helps you reduce your grocery budget without sacrificing quality. 
Ultimate Money Saving Guide
Workbook by Lauren Daly ($27.00)
Lauren shares over 250 tips and tricks to cut your monthly expenses, many which you can do TODAY without sacrificing your quality of life. 
BONUSES
HomeBinder: 3 Months Free Membership (value $8.97)
HomeBinder is an app that helps homeowners stay organized and easily manage their homes. We provide maintenance reminders, alerts if appliances are recalled, project tracking, contractor contact management, document storage and much more! HomeBinder is available on the web and through our mobile app.
Focuster: 3 Months Free Membership (value $44.97)


Focuster automatically schedules your To Do list in the empty slots in your calendar. Now you can focus on what's important, rather than the tedium of managing your schedule. Focuster updates your schedule to maximize your productivity when your calendar changes. And if you don't finish, Focuster will move it to the next available time. Recover your focus from distractions or interruptions with intelligent notifications that will remind you until you complete your top priority.
Wallet Win: 2 Months Free Membership (value $54.00)
Money is a touchy subject, so most people have not been taught how to use it effectively to reach their goals without breaking the bank. WalletWin provides the information you were never given on how to get out of debt, build wealth, and change the world through generosity. WalletWin aims to turn your personal finances from a source of fru
Question: What are you most excited for on Black Friday? Share your deals in the comments below.
Latest posts by Joseph Lalonde
(see all)