There have been many people who were called leaders yet they never truly led. They were only out for themselves and no one else.
Not their team. Not their coworkers. And sadly not even their family. The only one who mattered was covering their own butt, numero uno.
But, in his new book, Leaders Eat Last, Simon Sinek turns this leadership method on it's head, and then kicks it hard to the curb.
The greatest question you'll need to answer from Leaders Eat Last is "Am I eating last?"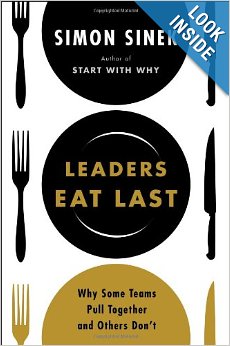 Sinek really reinforced the notion that leadership is less about the leader and more about the leader watching out for the team. Leaders go above and beyond to keep their teams together rather than tearing the team apart through layoffs and petty office politics. Read more...