The Answers From Leadership Podcast 019
Today's guest on the Answers From Leadership podcast is Ann Fishman. For more than two decades, Ann has been at the forefront of major generational trends. Receiving four U.S. Senate Research Fellowships, she introduced America to lifelong learning and intergenerational mentoring by creating Senate Information Papers, national workshops, and Federal legislation.
I'm excited to bring Ann on the show to discuss generational trends in leadership, especially in relation to millennials. After my talk with Ann, I was pumped.
I think you will be as well.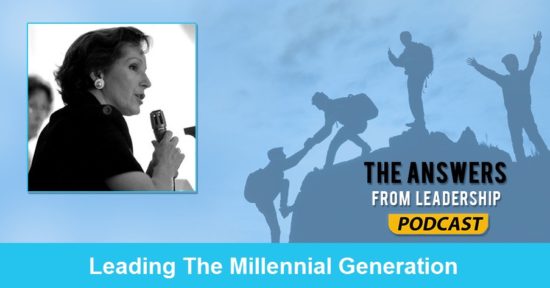 Listen To The Answers From Leadership Podcast
Podcast Show Notes
Ann, what else do you want listeners to know about you?
The most interesting thing about my life is that I handed a cake to Roy Rogers when I was 10, I accidentally met Elvis Presley at an airport, and I was trapped in Hurricane Katrina and got out by a tugboat. You don't get more interesting than that.  Read more...