Wow, I can't believe we've already entered into the final month of the year. Can you?
This year has been a crazy year for my family and I. Lots of ups and downs and craziness all around.
My hope is that the coming year will see many more victories and celebrations to come.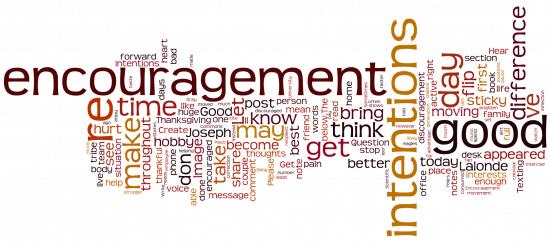 As usual, the new month brings a review of the previous month. I've got to say. November was a crazy month for the blog. You'll see why in the top posts section.
Top Posts
1. Catalyst East 2013 LeCrae Moore Notes – By far and away the most visited post this month. And it happened because of Twitter. LeCrae Moore retweeted the post to his audience and it took off like wildfire. Never underestimate the power of social media.
2. 10 Facts You Should Know About Modern Day Slavery – This post keeps getting the traffic from the search engines. If you didn't realize slavery is still happening, check out this post to get the facts.
3. Your Past Doesn't Define You, It Helps Shape You – Many people have found comfort in this post. When you begin to realize your past isn't who you are, it becomes freeing.
4. The Toughest Decision I've Had To Make – Probably the toughest post I've had to write. A tribute to my dog. I miss him every day but I'm glad other people are learning how awesome he was.
5. 5 Reasons Your Leadership Is Ineffective – Leaders are looking for reasons they're ineffective leading. Do you know why your leadership might be ineffective?
6. How To Give Effective Praise
7. 5 Steps To Become A Better Leader
8. 4 Ways To Increase Happiness
9. Sometimes The Grass Really Is Greener On The Other Side Of The Fence
10. Wake Up To The New Reality
That's the breakdown of my top posts for the month. Once again, it's a mix of evergreen content and newly written content.
I'll be branching out a bit more in promoting older content in the coming months and I'll be interested to see the effects. Have you tried to push older content more? If so, what was the effect?
Top Commenters
2. Dan Black
3. Jon Stolpe
4. Linda Lochridge Hoenigsberg
5. Zech Newman
8. Bob Sinclair
9. Tim Turnquist
10. Paul Jolicouer
Thanks to each and every one of you who has commented on the blog. You help bring the content to life and bring community to the site.
Site Statistics
I've already mentioned November was an amazing month for the blog. The power of social media boosted my reach beyond measure this month.
Here's the breakdown of what happened.
Visits – Increased 28.30%
Unique Visitors – Increased 33.72%
Pageviews – Increased 8.90%
Pages Per Visit – Decreased 15.21%
Average Visit Duration – Decreased 30.21%
Bounce Rate – Increased 29.77%
New Visits – Increased 4.90%
Question: What about you? If you're a blogger, share your most popular post. If you're not, share your favorite post from a blogger you follow.
Latest posts by Joseph Lalonde
(see all)