Was it only me or did July fly by? Between the fourth of July holiday, birthdays for my wife and my dad, and the daily grind, July seemed over in a blink.
That's the way the world works, though. If we're not careful, we can let our time fly by, never able to reclaim it.
Even though time flew by, I can't complain about it. Pam and I got in a vacation, I was able to spend lots of time with family, and we were able to enjoy a great variety of music.
Make time for your priorities. It's worth it.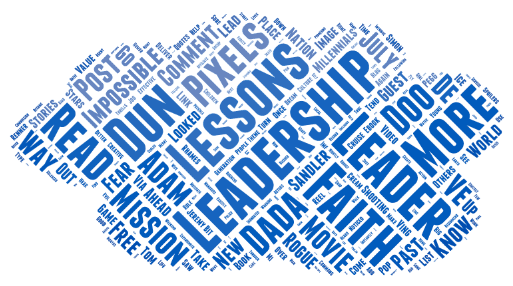 With that, we're now running headlong into August. Summer is cooling down and Christmas is just around the corner.
The beginning of August also means it's time for a bit of introspection. It's time to review the month of July and see where things on the blog ended.
Top Posts For July 2015
1. 17 Leadership Lessons And Quotes From Pixar's Inside Out
2. 20 Encouraging Bible Verses For Young Leaders
3. 22 Leadership Lessons And Quotes From Jurassic World
4. 16 Leadership Lessons And Quotes From Big Hero 6
5. 40 Leadership Lessons And Quotes From Netflix's Daredevil
6. 14 Leadership Lessons And Quotes From Terminator: Genisys
7. 12 Leadership Lessons And Quotes From Furious 7
8. 21 Leadership Lessons And Quotes From X-Men: Days Of Future Past
9. 11 Leadership Lessons And Quotes From Minions
10. 14 Leadership Lessons And Quotes From Mad Max: Fury Road
July's top blog posts were, once again, dominated by leadership lessons from the big screen. We see animated movies, action movies, comic book movies, all made the list.
August is sure to see more hit the list. I'm planning on delivering leadership lessons from Fantastic Four, The Man From U.N.C.L.E., and more.
Top Commenters For July 2015
2. Jon Stolpe
4. Jeffrey P. Rush
5. Julie Petersen
6. Beny M.
8. Jane
9. Kent Sanders
10. Paul Jolicoeur
Thanks to everyone who took the time to comment on the blog posts written in July. I appreciate hearing from everyone, even if there is disagreement in what is said.
Your voice is important, and I want to hear it. So, please continue to comment and continue the discussion. I'm looking forward to engaging with you!
Blog Statistics
Sessions – Decreased 0.05%
Users – Increased 0.58%
Pageviews – Decreased 0.79%
Pages Per Session – Decreased 0.73%
Average Session Duration – Decreased 1.89%
Bounce Rate – Increased 0.25%
New Sessions – Increased 0.58%
July saw a slight decrease in traffic and site duration. For me, it was expected. July is the peak summer month and this means people are busy enjoying the outdoors and family.
We'll see how August shapes up and go from there.
Question: How was your month? If you're a blogger, share your most popular post. If you're not, share your favorite post from a blogger you follow.