Arianna Huffington, of Huffington Post fame, knows a thing or two about thriving. This isn't to say she learned the easy way.
No, not at all. Rather, she learned how to thrive as a leader because she ran headfirst into burnout and health problems. All caused by an improper workload.
In Thrive: The Third Metric To Redefining Success And Creating A Life Of Well-Being, Wisdom, And Wonder, Huffington shares what she believes will help you thrive in leadership and in life.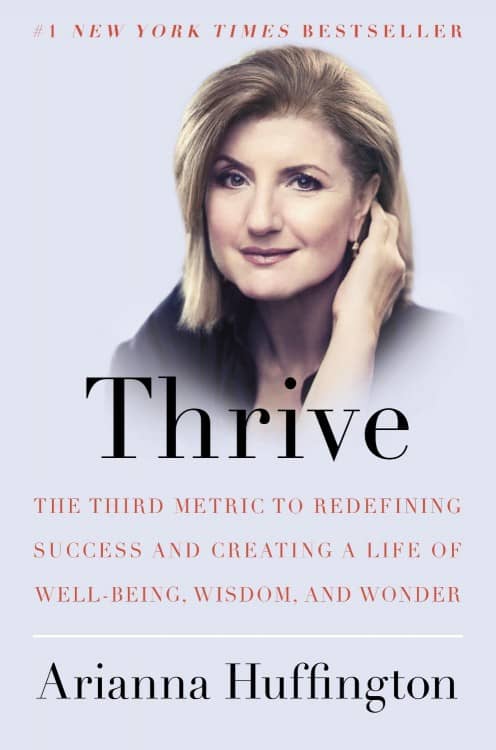 What's Good About Thrive?
There's a lot of good content in the book Thrive. Huffington experienced a life-threatening condition all because she didn't know how to balance life with work.
That's why Thrive was written. Huffington wants everyone to know that you don't have to crash and burn because of work. Rather, you can thrive.
Early on in Thrive, Huffington shares an excellent anecdote from her mother:
I don't care how well your business is doing, you're not taking care of you. Your business might have a great bottom line, but you are your most important capital.
This is the message throughout the whole book. We've got to be aware of our health. We can't keep running ourselves into the ground. If we do, not only will we not be well, our businesses will suffer as well.
Another great piece of wisdom in Thrive is this gem:
Companies that make sincere efforts to recognize employees' lives outside of the office will often see the payoff when it comes to recruiting and retaining top talent

– Rusty Rueff
In the business world, this doesn't seem to make sense. There are many leaders who feel they should only care and recognize an employee's life at the business. Anything outside of the office doesn't matter.
Rueff believes differently and he's seen the results of paying attention to the lives of his employees. You will too, if you take this approach.
Throughout the book, you'll see Huffington discuss study after study. She's done her research. One surprising study she shares in Thrive is from the International Journal of Workplace Health Management.
As a dog owner, this study made my day. The results showed that pet owners have lower blood pressure, reduced risk of heart disease, and lower levels of stress. Not only that, the study discovered stress levels decreased for employees who brought their dogs to work with them.
How cool is that?!?
Intuition is also mentioned. The stories she shared which backed up her suggestion to follow our intuitions were engaging and entertaining.
You'll read about nurses who could tell when premature babies had sepsis. Or how a lieutenant firefighter had the sense to get his team out of a burning building before the floor collapsed, all based on intuition.
I believe, more importantly, Huffington tells you how you can practice the third metric of well-being. She does this in each chapter. And every chapter title is a peg for fulfilling the third metric.
Was this what success looked like? Was this the life I wanted?
You'll discover how wisdom, wonder, and giving will help you thrive more than any kind of business success. This where the book really shines. You'll see that success isn't based solely on what you accomplish at work. Your success is much, much more than that.
What Bothered Me About Thrive
Thrive is a great book. I won't deny that. Huffington has really made me rethink what success is in my life and how I'm chasing success.
Yet there's something that didn't settle well with me while reading the book.
Huffington shares a lot about faith in her book. That's what's most troubling to me.
As you guys know, I have a strong faith. I believe there's one way to Heaven and only one person ever lived a perfect, sinless life.
In Thrive, there's a lot of mixing of religions. From Buddhism to Kabbalah to Christianity, there's such a mixture of beliefs, it's scary.
This has to be my biggest beef with Thrive.
There was also the fact that I wasn't Huffington's target audience. My gut reaction was that she was writing to other women and I felt like I was sitting in on a conversation I didn't belong at.
Final Thoughts On Thrive
I'm torn on whether or not to recommend Thrive to you, my readers. There's a lot of great information in the book.
You'll learn how to balance your life. You'll learn how wisdom, wonder, and giving will enrich your life. You'll learn there's more to success than business success.
That's what will make this book great and valuable. You can go back to the great quotes in Thrive and be encouraged. You can also see you're not the only one feeling like business success isn't all it's cracked up to be.
But the combinations of religions that were tossed together in Thrive makes it truly hard for me to recommend. For some, this won't bother them. For others, it will be a big issue.
In the end, I think the book is valuable and will help you redefine success in your life. Just be careful about the religious aspect of the book.
Question: Have you found yourself looking to redefine what success means in your life? Why or why not? Please share your thoughts in the comment section below.
Disclosure of Material Connection: I received this book free from the publisher. I was not required to write a positive review. The opinions I have expressed are my own. I am disclosing this in accordance with the Federal Trade Commission's 16 CFR, Part 255 : "Guides Concerning the Use of Endorsements and Testimonials in Advertising."
Latest posts by Joseph Lalonde
(see all)