Mark Sanborn, author of Fred Factor and Fred Factor 2.0 (along with 6 other titles), is a powerful force in the leadership world. He's the president of Sanborn & Associates, authority on leadership, and a great public speaker.
Mark graciously gave a few minutes of his day to answer a couple of burning leadership questions I had.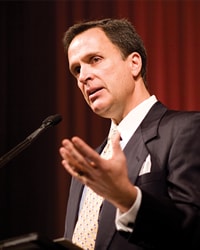 In the following interview with Mark, I asked:
Mark, you've written quite a few books. Two of your books focus on a man named Fred. Can you tell us a little about Fred?
You focus on relationships quite a bit, right?
How do you decide which relationships you need to nourish?
Your philosophy on relationships sounds a lot like the 80/20 rule. Can you expand on that?
How do you take people beyond your books and get people to actually engage in the message you're sharing? Read more...