The Answers From Leadership Episode 25
Beth Beutler is the guest on today's Answers From Leadership podcast. Beth is a virtual assistant, consultant, author, speaker. She helps principle-centered yet overwhelmed professionals excel.
Today, we discussed overcoming the overwhelm, and becoming a more productive leader.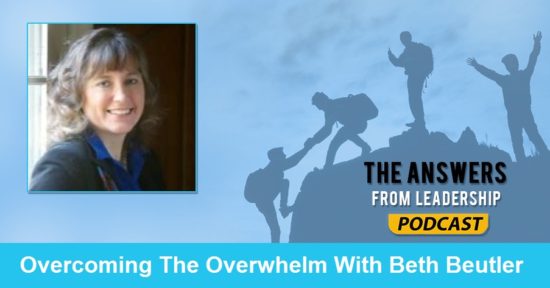 Listen To The Answers From Leadership Podcast
Show Notes:
What else would you have listeners know about you?
In a very specific way, the roles I play are a collaborative virtual assistant, a business soft skills trainer, and a blogger and writer.
I write on helping overwhelmed professionals excel. That's where the name H.O.P.E comes from in my business name of H.O.P.E. Unlimited.
I was also a long-time church employee.
Why do you consider yourself a leader?
I feel like I was born a leader in some ways. I was born an only child, married an only child, and am a parent to an only child.