I'm sure quite a few of you were in diapers as I was immersed as a teen in this 1970's commercial about Enjoli perfume.
This sexy suburbanite sang a jazzy song about the many roles she successfully played in society—a corporate executive, a gourmet cook, an involved mother and the commercial culminated as she sang to her husband, "And I'll never let you forget you're a man." It was the media's version of the complete woman.
It obviously penetrated my psyche because I tried hard to be all things to all people. However, through years of bitter experiences—a divorce, stress and anxiety attacks, I slowly learned this was a fallacy. In fact, it diluted my impact as a mother, educator, wife, and writer.
The second American belief I lapped up early on was that success meant power, big salaries, trinkets, and position. I'm a proponent of capitalism, but it is not an end unto itself. Positional leaders—those with name plaques on wooden doors but impotent in influence are the gatekeepers of this ideology.
As a result, many leaders are displaced– less effective, influential and impactful than they could be because they are underutilizing their passions and strengths in lieu of maintaining the status quo.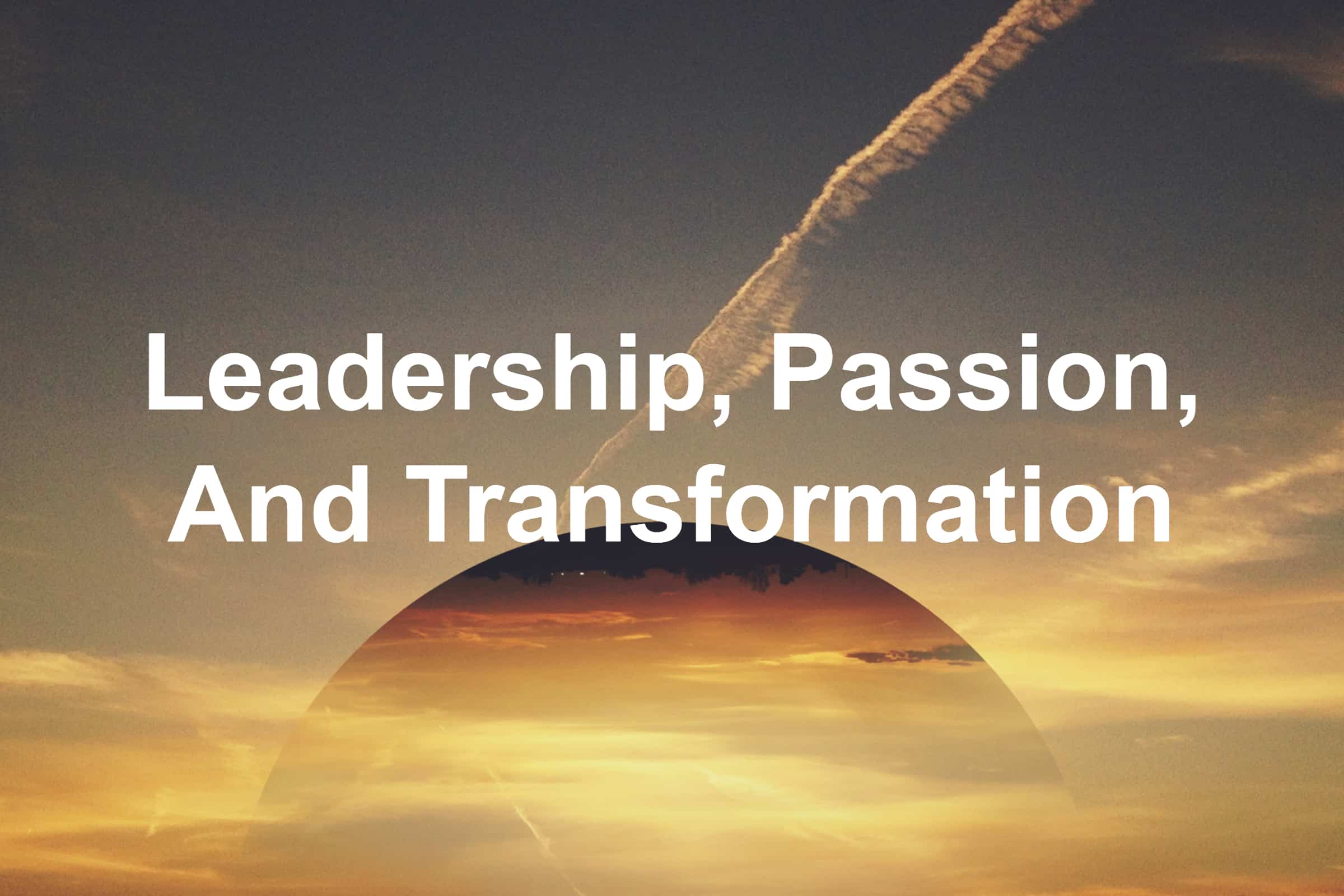 How comfortable would you be under the care of a Neurologist who secretly longs to be a high school history teacher? Would you entrust your child to a teacher who dislikes children? Can you vote for a for a politician who abuses his constituents?
Because you know they don't have their head in the game, because you know they have a half-hearted commitment to their craft, they'll just do the basics or worse– take shortcuts rather than delivering excellence and expertise to the table. In the end, your health suffers, education stagnates and government stalls when leaders are displaced.
Moreover, disengagement and higher instances of absenteeism are reported among workers who underutilize their gifts in their position. Billions are spent by corporations to counterbalance workers missing in action. In the end, goods and services decline.
Why Passion?
On the other hand, leading through the prism of our passion creates the conditions for focus, deep insight and genius.
If you've ever been involved in an activity like writing, brainstorming, athletics or crunching numbers, and been overtaken by intense focus and euphoria, then that's a clue to your passion. That state encourages you to understand the nuances and layers of your craft, which when utilized, can deeply impact your interaction and service to your clients, students or staff. The enthusiasm and joy that exudes from anyone immersed in what they care about is infectious and tends to create an invaluable experience.
Transformation is the natural byproduct of this type of leadership. Intense focus penetrates the layers of knowledge and new discoveries and applications in different fields of study benefit us.
We need fresh ideas and new approaches in our work to be more effective and efficient.
Recently, I was listening to a podcast which shared how Texas A&M University has created a pilot program, combining engineering and a medical degree. Integrating these two disciplines can mean more precise medical procedures and other innovations. We as health consumers benefit.
Passion comes in different shapes and sizes and forms. Whether you're advocating for workers as a union representative or providing pastoral leadership in cutting-edge ways, or seeking to own several franchises, your signature passion is required to heal, inspire, direct and deepen the quality of our lives. Passion is a powerful conduit through which the vision of your organization is realized.
Begin to Position Your Passion in Your Leadership Style
Spend at least ten minutes reflecting each day. Ask yourself these questions; What activities did I find enjoyable?
How can I develop my passion? Find a mentor? Read several books on the topic? Take small daily steps to create the structure you need to make your most important passions a regular experience in your life.
What inconsequential activities can you delegate to others? Dr. John Maxwell, leadership guru, suggests that an assistant who can perform a task eighty percent as well as you can take it over. As you explore how to integrate your passions with your leadership style, then freeing up the energy to hone your strengths and expertise is essential to becoming a more transformational force, so delegate.
Conclusion
Scattered and ineffective leadership results in desiring to please people. Obsession with power and prestige draw positional leadership to businesses and corporations. The outcome is oftentimes profit over meaningful transformation and innovation. What ultimately bolsters our economy and secures America's leadership internationally is innovation and risk-taking. Leaders who focus on passion, problem-solving, creativity and transformation keep that American spirit alive. This leads to excellent goods and services.
This is a guest article from Rosalind Henderson. Rosalind is a leadership trainer and author of several books which include, 'Negative NO More, 100+ Ways to Upgrade Your Life' and her latest, 'The ABC's of an A+ Workplace.' She also blogs at 
http://therosalindhenderson.com/
.
A product of world renown leadership mentors, Dr. John Maxwell, Drs. Henry Cloud and John Townsend plus her experience in educational leadership combine to empower leaders, organizations, and businesses with fresh life-changing strategies, mindsets, and solutions to issues.  Rosalind provides many services which include small group consulting, products, keynotes, and presentations to equip individuals to meet and exceed goals.