Are you ready for another installment of Leadership Insights? I recently had the great pleasure of attending the book release party for Kimanzi Constable. His first traditionally published book was released and he had a great party to celebrate.
Kimanzi shares in his new book, Are You Living Or Existing?, how you can take your life from existing to living in 9 steps. They're not easy but they're well worth the effort. He can tell you from first hand experience.
He's gone from working in a job he hated, being unhappy, and wishing for something better to international speaker, selling over 80,000 copies of his books, and quit the job he hated.
This man knows what it takes to move forward in life and lead a living life.
Read the interview and then see how you can receive over $100 in bonuses when you buy his book.
Q1: What prompted you to write Are You Living or Existing?
The book was based off of the 9 steps I used to change my life. When I first decided to make the change I looked for books that would lay out a plan I could use. Since I couldn't find any that applied to where I was at, I made up my own. Thus was born the framework for this book.
Q2: You've had quite the journey going from living to existing. What's been the toughest part of your journey?
The toughest part has been staying focused on what's important. Even with some success so far, I still found myself getting distracted by the little things: my book dropping in the rankings, a negative or mediocre review, distractions on social media and the 101 things that come up on a daily basis. I have to stay focused on helping people and helping them anyway I can. Service has to be first, not all the little distractions.
Q3: In your book, there's talk of getting fit, getting your money in order, and getting the right people in your life. Should you be working on all of these areas of your life at once or should these be tackled separately?
I believe these area's all work hand in hand. When you work on getting fit, you will naturally work on your money because you'll cut back on excess spending on junk food. When I talk about getting fit, I talk about getting fit physically, mentally and emotionally. By getting fit emotionally, you'll be able to cut ties with those unhealthily relationships. By working on one area you'll find that the other area's naturally start to fall in place.
Q4: In chapter 2 of Are You Living Or Existing?, you talk about reading great books. What books would you say have had the greatest impact on your life?
48 Days To The Work You Love by Dan Miller has had the greatest impact, followed by: Quitter by Jon Acuff, The Total Money Makeover by Dave Ramsey, The Art of Non Conformity and $100 Start Up by Chris Guillebeau, Platform by Michael Hyatt, and Wrecked by Jeff Goins.
Q5: Lots of people like to enter into a venture with no Plan B. You state that we should have a Plan B as we begin working towards the life we want. Have you had to use your Plan B?
Absolutely! I quit doing bread at the end of last year, I thought I would be done way sooner. The time came around and I still wasn't ready, so Plan B it was!
Q6: You focused a lot on relationships in your book. Why are they important and how do you cultivate them?
Relationships can either make or break our dreams. They can encourage you and push you forward or they can hold you back and feed into your doubts and fears. I truly believe in connecting and building true relationships by serving, helping and being there for other anyway possible.
Q7: Sometimes through our journeys we discover we don't like the radical changes we've made. What should we do if this happens?
Make sure you're sure and that you're not just burnt out. If you are sure you can always go back, and start over. There's nothing wrong with starting over, there is a HUGE problem with not starting.
Q8: The last chapter of your book talks about Paying It Forward. How have you paid it forward?
I hope one way is with this book. I hope people use it to make changes in their life that not only impacts them but generations to come. With speaking and teaching people how to make their dreams a reality.
Q9: If someone has read your book and they're still afraid of living, what advice would you give to them?
To reach out for support. If you want to email me, please do ([email protected]) Or someone in your life that can give you wise counsel. I would tell them to realize we don't have a lot of time and every moment counts. I would tell them they are destined for great and amazing things if they just start!
Q10: Is there anything else you'd like to share with my audience?
The world needs leaders who will stop listening to all the doubts and fears and will take action. The world needs change and it is possible if we first change ourselves. This inscription is in the front of my book but is something I read at least once a week:
When I was young and free and my imagination had no limits,

I dreamed of changing the world.

As I grew older and wiser I discovered the

world would not change –

So I shortened my sights somewhat and decided to change only my country,

But it too seemed immovable.

As I grew into my twilight years,

in one last desperate attempt,

I settled for changing only my family, those closest to me, But alas, they

would have none of it.

And now I realize as I lie on my deathbed,

if I had only changed myself first,

Then by example I might have changed my family, From their inspiration and encouragement I would then have been able to better my country,

And who knows, I might have even changed the world.
Now that you've heard what Kimanzi thinks, I'd love for you to pick up his book, Are You Living Or Existing. It's perfect for people who are wanting to do more than just exist. It's for those who are looking to live.
That's why, during the first 2 weeks of release, Kimanzi is offering a package of bonuses when you purchase his book. Here's what you need to do to receive the bonuses.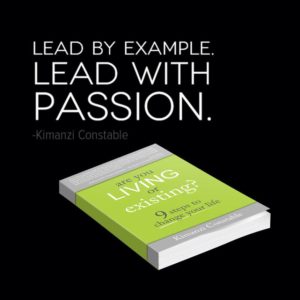 1. Go to Amazon, Barnes & Noble, or any other book store and purchase a copy of the book.
2. Send your receipt to [email protected].
3. You will receive a response with access to a special page designed only for those who purchased the book.
If you'd like to see the $100 in bonuses you'll receive when you purchase the book, check out the BONUS PAGE.
Question: How are you moving from existing to living? Please share your thoughts in the comment section below.