Conferences are a great way to increase your knowledge and leadership potential. They bring together the best of the best to share their knowledge with you.
Bryan Allain did just that with the Killer Tribes conference in Nashville, TN.
As I've already planned for my one big conference of the year, I had to miss Killer Tribes. Thankfully, Bryan had the foresight to record the conference and offer it to those that missed it.
I couldn't be more grateful. The lineup Bryan put together was amazing. Men and women like:
Jeff Goins
Jon Acuff
Mark Hughes
Tamara Lunardo
Sarah Mae
The knowledge they shared was inspiring, motivational, and informative. Once, only available live at the conference, you can own the recordings.
Bryan offered two audio packages. Both are jam packed with goodness.
The standard Killer Tribes conference audio package includes talks from:
Alli Worthington – Yes You Can Have It All
Jeff Goins – Starting From Scratch
Steve Kamp (of Nerd Fitness) – How To Start A Rebellion
Jon Acuff – 10 Minutes On Building Your Tribe
Sarah Mae – How I Learned To Love Marketing
Mark Hughes – The Basics Of Buzz
Daddy-O – Entertainment's Killer Tribe
Tamara Lunardo – Embracing Your Niche
Dave Delaney – Social Networking In Real Life
This package includes over 4.5 hours of content from the conference. I was blown away with the killer content in this package.
The speakers nailed it and give you more than your money's worth.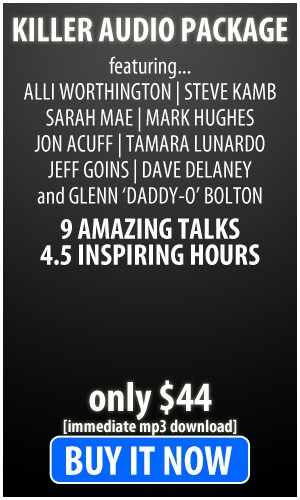 The second package is The Killer Bonus Package. It's the one I opted for.
The Killer Bonus Package includes the previously listed talks plus 4 exclusive interviews with:
Derek Webb – Musician and founder of Noisetrade
Jon Acuff – Author of Quitter
Crystal Paine – Founder of MoneySavingMom.com
Ben Arment – Founder of Story Conference and Dream Year
I also received Bryan Allain's newest eBook 21 Thoughts on Building Your Killer Tribe.
While the book is great, the real reason to get the Killer Bonus Package is the extra interviews. Derek Webb was especially impressive.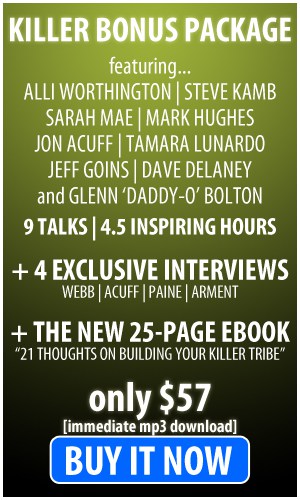 If these names don't get you excited about the conference audio, what I learned might just do it.
Here's a few things I learned while listening to the audio:
Why you need to stay inspired
What not to do with your audience
Why Tim Ferris is wrong
Who your audience needs you to be
Should you choose your tribe
What to do when you're late for an interview with Jim Collins
How to organize a conference or event
Why you should learn to say no
Why you don't need a lot of fans
How to create a fan base that will buy
With this information you'll be ready to take your blog to the next level. I know it's propelling me forward.
Sounds interesting? Be sure to purchase your copy of the audio today.
Question: What's been the best conference you've attended? Please share your thoughts in the comment section below.
Disclosure: Some links in this post are affiliate links. If you purchase from them, I will receive an affiliate commission.
Latest posts by Joseph Lalonde
(see all)