Stan Phelps is a master of communications. He's penned or co-written multiple books on business, leadership, standing out, and, now, delivering business presentations.
In his latest book, Silver Goldfish, Phelps partnered with Alan Hoffler to create a great guide to giving memorable presentations.
What I've discovered is that every leader is a presenter. They have to be able to clearly deliver a message that will be heard loud and clear. This makes them a presenter.
Phelps and Hoffler will help leaders become better presenters. Silver Goldfish is the pathway to this.
Today's article will look at 3 of the 10 keys they shared in their book. I know these keys to delivering better business presentations will help you.
How To Give Better Business Presentations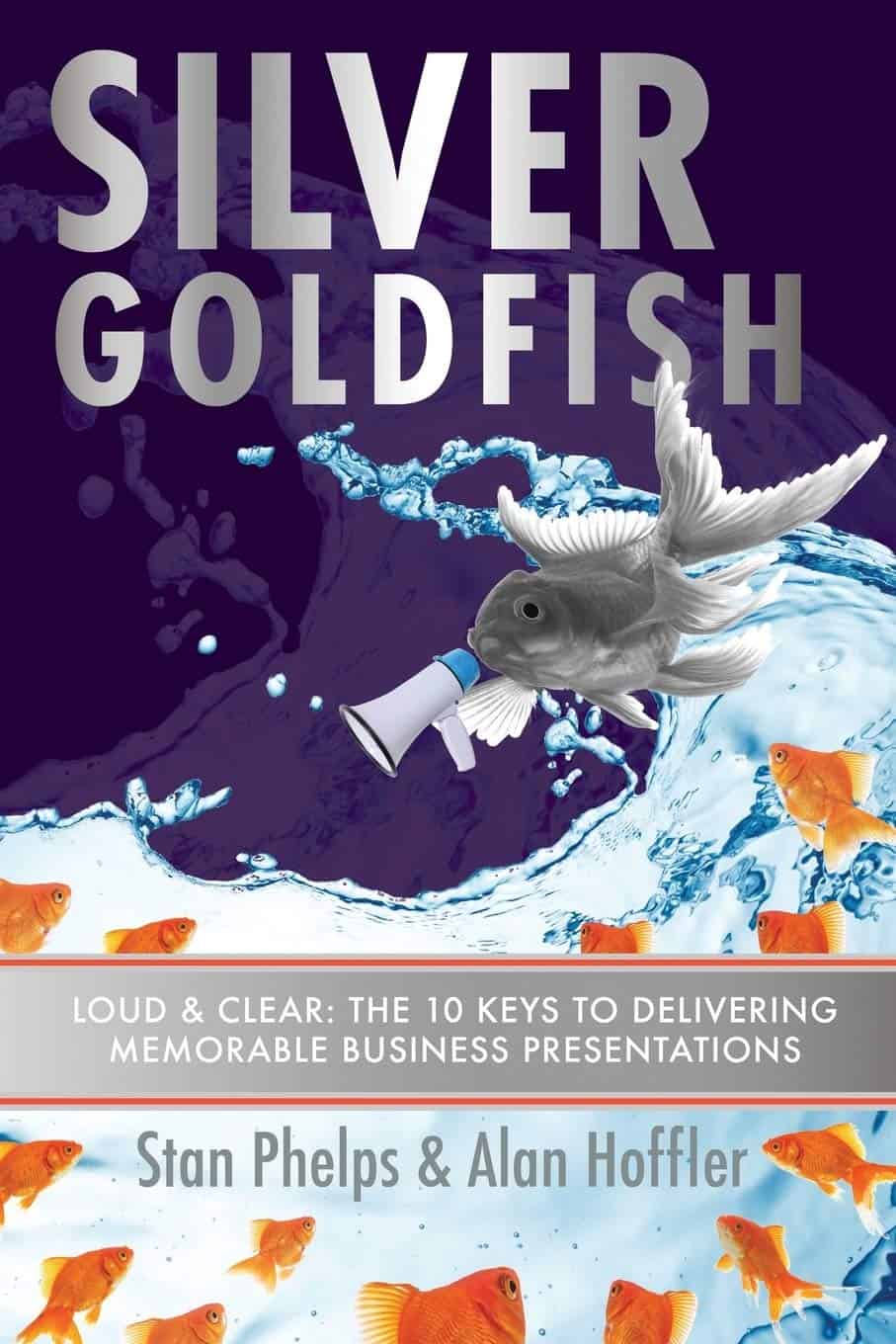 Impressions Matter:
Phelps and Hoffler discuss the importance of the impression you make on those you present to. This includes the way you dress, the way you hold yourself, and the first words you say.
Each of these pieces join together to create an impression of you in the minds of those listening to you. You have to be aware of the impression you're giving people.
Make sure you are dressed in a manner that is at the same level or above those you're speaking to. Make sure you're holding your body in a way that says listen to me and not ignore me.
Simplify Your Message:
Many leaders think they have to use business jargon and big, expressive words when presenting their message. The belief is that the more complicated the speech, the more value you've given.
This is a lie.
We can get caught up in business lingo or trying to sound smart. We can try to figure out ways to confuse the audience with our wisdom.
All this does is leave your audience dazed and confused. They won't remember a darn thing of what you've communicated.
I love the example the authors used in Silver Goldfish to point out the need to simplify your message. They shared a story. It went like this:
Alan grew up in a medical household. As a child, Alan can remember playing on the floor one day and jumping up to his feet. The world began to spin and he staggered to the floral printed couch. Alan's dad barely batted an eye and said "You're experiencing autonomic instability related to orthostatic induction." Alan responded with "No, I'm pretty sure I just stood up too fast." Alan's dad replied, "That's what I said."
Complicated messages are harder to communicate. Make them simple and your audience will hear you.
Connect With Your Audience:
We've all been there. We're listening to a speaker but we just cannot connect with them.
Their message may be too complicated, their story too far from ours, or they seem too perfect. These are ways presenters disconnect from their audiences. They are on the pedestal while their audience is beneath them.
Great business presentations connect with the audience. They are engaged and connected to the speaker. They know there's something they can relate to.
One of the best quotes I read in the book was "They don't require you to be perfect."
Why is this a great quote from Silver Goldfish? Because it reminds us that we don't need to be perfect when we're presenting. Rather, we need to connect with our audience.
This means your presentation can be a little bumpy but your message will get through. To connect, you need to do a few things. They are:
These 3 keys will help you become a better business presenter. Get Phelps and Hoffler's book Silver Goldfish and you will find even more ways to become a better business presenter.