I'm currently in Atlanta, GA live blogging the Catalyst Conference. During this time, I'll be dropping the leadership wisdom shared by the amazing speaker lineup.
A dynamic pastor and speaker, Chris Brown joined the Dave Ramsey team in 2014 to carry the message of stewardship and intentional living to churches across the country.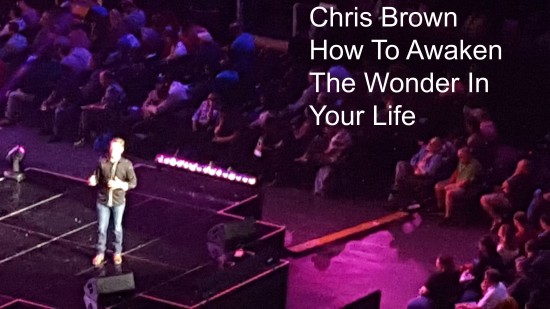 Wonder Is An Amazing Thing
Kids experience wonder all the time. Entering a packed arena for the first time. Getting the longed-for present. Wonder is present in children all the time.
Now, what about adults? We fail to experience wonder like children.
We still do… It's just not like when we were kids.
What Robs Us Of Wonder?
As we get older, life creeps up on us. Along with WORRY.
Worry begins to rob us of wonder…
We wonder:
Where the next paycheck is coming from
Am I good enough?
Will we balance work life with personal life?
Our worry takes us away from wonder.
Familiarity robs us of wonder…
How often does familiarity robbed us of wonder? We attend the same conference again and again. We use the toilet over and over. We turn on the faucet and water pours out.
As we get comfortable and familiar with what's around us, we lose our wonder.
Distraction robs us of wonder…
Our cell phone rings and we're drawn away. The allure to check our fantasy football team on our cell phone.
We're constantly distracted and we miss the wonder.
How Do We Awaken The Wonder In Our Lives?
Gratitude is the key that unlocks the wonder
Be grateful for what we have:
Be entrenched in what we are doing right now:
How Do We Keep The Wonder?
With one word we can keep the wonder:
GENEROSITY
When we're generous, we're proactivity creating wonder in  the lives of others, and in the lives of ours.
We get to see people's faces light up, when we see tears flow from their eyes, when we see people celebrate, we can experience the same wonder we've just given away in our generosity.