This week we take a day to celebrate love, on the 14th it will be Valentine's Day. During this week I will be posting on a subject that I have been wanting to for awhile, relationships. First up is a book review regarding a Mafia marriage.
A dancer named Cammy meets Michael Franzese. She soon falls in love and marries Michael. Little does she know that he has ties to the mafia.
This Thing of Ours: How Faith Saved My Mafia Marriage tells this story.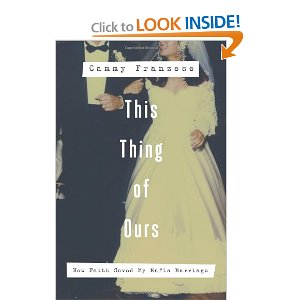 Cammy Franzese recounts her experience of meeting and marrying Michael. From meeting Michael on the set of a movie where she was a dancer, to the lavish dates, to the knock on the door and the police officers that greet her, to the times Michael was behind bars serving times for crimes he committed.
Through it all, Cammy stuck with Michael and managed to make their marriage work. She attributes this to her faith and her mother's prayers.
I really wanted to like the book. The premise sounded amazing.
A dancer trying to make her dreams come true. Along the way, she meets a great guy only to find out he is not all that she thought he was. And how faith saved their marriage.
Sadly the book did not deliver for me and it may be because I am not the target audience. I got the feeling this was a book geared more towards women.
Yet I feel this book has something to offer.
Cammy makes a decision to stay with her husband through the trials and tribulations his actions brought into their life:
If more people chose the hard route, more marriages would succeed. Michael and Cammy spent many years apart. When Michael returned, married life was difficult. Michael tried to assume the roles he had before. Adjustments had to be made.While it was tough, they succeeded and reconnecting and continuing their marriage. It was great seeing a book encouraging couples to take the hard path and stay together
Cammy encourages a close relationship with your family:
Through it all, Cammy talks about how her family helped keep it all together. Her family was a bedrock during the struggles. She knows without her family her trials and tribulations would have been much worse. Nurture your relationships with your parents, siblings, and other family members. Their strength can be your strength.
Cammy knows that faith played an important role in keeping her family together:
Her mother was a praying woman and continually encouraged Cammy. She constantly told Cammy that God had greater things in store for Michael. That God was there to comfort Cammy. And that things would work out.
Despite these great lessons the book teaches, it never held my attention. The writing seemed sloppy and thrown together. There were lots of issues that were skipped.
Because of the great message of the book, I am giving it 3 out of 5 stars. If the writing had been tighter, the rating would be bumped to 4 out of 5 stars.
Question: Do you think your marriage could survive years of separation while your spouse was in prison? How would you cope with this trial? Please share your answers in the comment section below.
Disclosure of Material Connection: I received this book free from the publisher through the BookSneeze®.com book review bloggers program. I was not required to write a positive review. The opinions I have expressed are my own. I am disclosing this in accordance with the Federal Trade Commission's 16 CFR, Part 255 : "Guides Concerning the Use of Endorsements and Testimonials in Advertising."