Jason Jaggard made a big promise on the cover of his new book Spark. That promise was "Transform your world, one small risk at a time."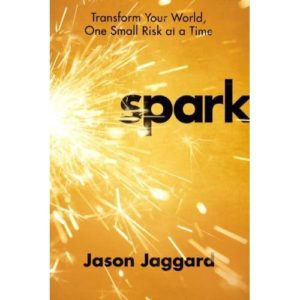 I looked at that statement and gave it a puzzled look. "How can you change the world with one small risk at a time?"
Turns out it's much like the way you can change your life with one small step at a time.
If you're consistently taking small risks, they add up to big results. And Jason gives examples he's seen in his own life and in those that have been in "spark groups."
A spark group is a group of individuals that get together to challenge and encourage each other to take small risks and build to big risks.
It's effective. It's encouraging. It's available to you.
During a Spark group in Whittier, California, one person discovered that a restaurant in uptown Whittier was struggling to make it. One person with little to no money can't save a restaurant. But fifteen people could make a bigger impact. So for a few weeks, the group had dinner at the struggling restaurant on its slowest night to help with sales, and then they spread the word about the great food and quality service.

Years later, the restaurant is still in business and everyone from that initial Spark Group gets a fifteen-percent discount. Not bad
-excerpt from Spark
Jason's writing style made me want to read the book. The stories he shared made me want to continue reading.
I'd sit down with the book and before I knew it I'd be 50 to 60 pages into it. This continued throughout the whole book.
The examples Jason gave were plentiful. He shares:
the story of how one small risk during a speech changed his life
how a for Meals On Wheels snowballed into a movement of friends
the horrible, yet awesome, failure of Jordan
Every story pulls out the truth that one small risk can change your life. And eventually the world. You just have to take that first step.
There's also lots of practical information in Spark.
By the end of the book you'll have the knowledge to start your own Spark Group, sense what risks you should be taking, and why you should break out of routines.
The best thing I got from the book?
Spark has sparked a desire in me for even more fellowship with those that want to change the world. With each turn of the page my mind raced with thoughts on how to take action and form my own group. It will be my handbook as I step forward in an attempt to create something special.
I feel Spark can do the same thing for you.
If you've been desiring to see change in your world, this book is for you. If you're longing for a way to get together with great people, this book is for you. If you're unmotivated and want to get motivated, you NEED this book!
Does this book sound interesting? Purchase Spark at Amazon by clicking HERE (affiliate link).
Question: What risk could you take that would begin to change the world? Please share your thoughts in the comment section below.
Disclosure of Material Connection: I received this book free from the Blogging For Books program. I was not required to write a positive review. The opinions I have expressed are my own. I am disclosing this in accordance with the Federal Trade Commission's 16 CFR, Part 255 : "Guides Concerning the Use of Endorsements and Testimonials in Advertising."
Latest posts by Joseph Lalonde
(see all)