On my recent trip to Atlanta for the Catalyst Conference, I had the pleasure to tour the headquarters of Chick-Fil-A.
To say it was a humbling experience would be putting it mildly.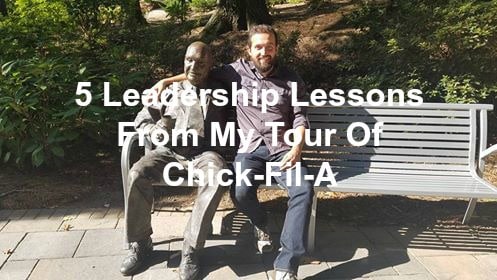 I wasn't sure what to expect when I was informed that my wife and I, along with Paul Sohn, would be able to visit Chick-Fil-A headquarters.
Chick-Fil-A has a corporate culture that will astound you. Much like their restaurants, the employees at Chick-Fil-A headquarters want to serve you.
And that's where I want to begin sharing the leadership lessons learned from a visit to Chick-Fil-A .
What Chick-Fil-A Headquarters Taught Me About Leadership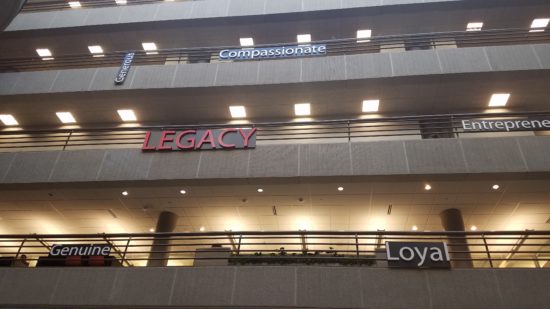 1. Serve others with a smile:
If you've ever been to a Chick-Fil-A restaurant, you know the restaurant staff has been trained to serve their patrons. Everything they do exudes that fact.
You'll hear "My pleasure" and "Can I do anything else for you?" quite often. These servant attitudes transfer over to their corporate headquarters as well.
When Paul, Pam, and I sat down to lunch with Dee Ann Turner, a senior executive, we were welcomed with a servant heart.
She patiently walked us through the Chick-Fil-A cafeteria. Not only that, she wanted to make sure we found the exact lunch we desired.
After we sat down on their outside patio, I realized I'd forgotten an egg roll. As I got up to go back to the cafeteria, Dee Ann asked me to have a seat and let me know she would go inside and bring me an egg roll.
She didn't have to do this. But this attitude is part of the Chick-Fil-A culture.
What can we learn? You're never too high up to serve others with a smile.
2. Remember great leaders:
Samuel Truett Cathy was the founder of Chick-Fil-A in 1946. Sadly, Truett passed away on September 8, 2014.
While it's been over 2 years since his passing, their headquarters still honor the man who created the world's greatest chicken sandwich.
His former office sits virtually unchanged from his time at Chick-Fil-A. The office is a living monument to Truett.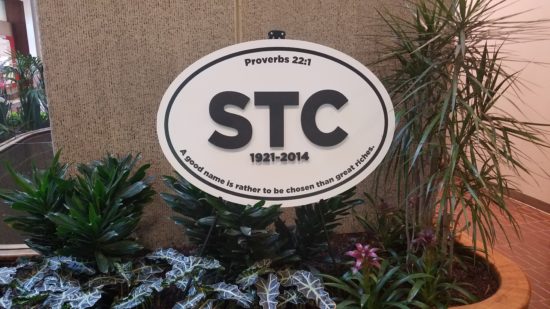 What can we learn? Never forgot the men and women who came before. They laid the foundation for the future of your organization.
3. Treat your employees well:
Do you remember the cafeteria I'd mentioned earlier? Well, there's something special about it.
Chick-Fil-A provides meals for each employee that works at their headquarters. They can go down to the cafeteria and grab a Chick-Fil-A sandwich or a healthy salad. The choice is up to them.
Yet lunch is on the house. They're staff is taken care of.
What can we learn? Be generous to your staff. Treat them well and they'll stick around.
4. Invite others in:
Never in my wildest dreams would I have thought I would set foot in Chick-Fil-A headquarters. Yet, just a few weeks ago I did.
Why did I have this opportunity? Because they want outsiders to experience their culture first hand. They want people to know what they see on the outside is what they will experience on the inside.
And what blew me away even more were the number of people who were also touring the facilities. The visitors were non-stop from the time we arrived to the time we left.
Other organizations wanted to see what Chick-Fil-A was doing right. And Chick-Fil-A invited those organizations in to view their inner workings.
What can we learn? Don't be afraid to invite others into your headquarters. Doing so gives you the opportunity to show them what you do, why you do it, and that you're the real deal.
5. Share your story:
As we finished our tour of their headquarters, we were brought into Truett's old office. Just before we entered, there were 2 books by Truett Cathy sitting on a table.
Dee An informed us that we were free to take the books as a memento and to remember our time visiting Chick-Fil-A. Those 2 books were: It's Better To Build Boys Than Mend Men and How Did You Do It, Truett?
These books shared the story of Truett and what he believed. They weren't afraid to share their story and neither should you.
What can we learn? Sharing our story makes people feel invested in your organization. Share your story through tours, books, and social media.
My time touring Chick-Fil-A's headquarters will be a memory I'll always treasure. There was magic in the air when we entered their doors.
I pray that one day I'll be able to leave a legacy much like Truett Cathy.
Question: Have you visited the Chick-Fil-A headquarters? If so, what did you learn? If not, what could you learn from my visit? Share your thoughts in the comment section below.