Whether you're giving a gift to a leader above you or you've been asked what kind of gift you want to receive, thinking of the perfect gift can be difficult. I know I stumble over it whenever I'm asked, whether it is from a family member, friend, or coworker.
Gift-giving is difficult. When you give a gift, it should be thoughtful. You should tailor the gift to the receiver (just ask my wife).
I'm not the best at that. I would rather grab a gift card off of the shelves of Meijer than try to figure out the best gift. I'm just that way.
However, what would happen if we began to think about the gifts we give? You would blow the receiver of the gift away!
Today, I want to share five gift ideas for leaders for Christmas. This can be a starting point or the finish line.
5 Gift Ideas For Leaders This Christmas Season
1. Oak Phone Holder With Collapsible Stand: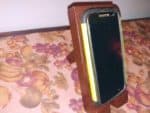 I received this gift from Jordan Ring. He recently released his book, Catalyze Your Destiny. In the box with the book was a beautiful phone holder. I find my wife stealing this gift and using it quite often. Yet, the gift is a great, simple piece you can give someone.
You can purchase this on Etsy.
2. A great book they'll enjoy:
Leaders are readers. They love to learn and books are a great way to do this. Every leader will have a different book on their list, so I cannot recommend a specific book, but you can figure it out. If you'd like help, you can check out some of my book recommendations:
Books I recommend can be found here, here, here, here, and here. There are more book recommendations on the blog, but these will get you there.
3. Michael Hyatt's Full Focus Planner:
Arranging our day, figuring out what is essential, and having a way to catalog all of this can be not easy. However, Michael Hyatt created a planner that is functional while looking fabulous.
His Full Focus Planner will help any leader set annual goals, weekly goals, and daily goals. Not only will they set goals, they will reach their goals.
Purchase the Full Focus Planner here.
4. Treats from a local store:
In Muskegon, we have so many small businesses that do great treats. There is The Only Cannoli, Lakeside Emporium, and Yummy Delights On The Lakeshore. I'd also be remiss not to mention Mokaya and their exquisite chocolates. The treats these stores whip up are unique and special because of the love and care put into them.
Find a local business you could purchase a special treat for that remarkable leader in your life.
5. The Bible:
This one can be an iffy gift depending on the person you're giving the Bible to. However, I believe the Bible will change someone's life more than any other gift, leadership course, or book. You can find a great Bible on Amazon.
Give this gift knowing it may not be received well. However, it is the gift that will change lives forever.
Latest posts by Joseph Lalonde
(see all)