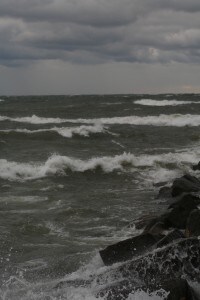 Last night I arrived home from work and my wife, Pamela, wanted to go for a walk. Almost immediately after she asked this, a boom of thunder could be heard. So much for our walk tonight. However, there was an alternative. We decided to drive down to Lake Michigan and watch the storm come across the lake.
We arrived at the lake within 5 minutes and prepared to watch this awesome storm come in. However, when we arrived, the pouring rain had turned to a drizzle and the dark clouds  had become light. The storm was over and we missed most of it.
While the rain and darkness had passed us by, there was still quite a wind on the lake and we were pleased to see two kite boarders take advantage of the wind. They were able to gain quite a bit of speed and do some impressive aerial tricks. Another brave soul had brought his kayak out to the lake and paddled out into the water. His skill and strength were amazing as he battled and overcame waves that were 5-10 feet tall and crashing towards him. Read more...